Picture Of The Day for October 23, 2008
Misty The
Wrestler

Boxer

When Misty James hit the ring for MLW in Tupelo, Mississippi, earlier this month, she must have been a little confused. Throwing fists at her opponent whenever the chance presented itself, it appeared that the G.L.O.R.Y. Girl thought she had stepped into a boxing ring rather than a wrestling ring!

Misty puts her whole body behind this roundhouse right that drops her opponent, Rock-C, to the canvas. With Rock-C down and still stunned, Misty continues to pummel her (below) as she pounds away with clubbing fists to the upper-back and shoulder blades.

The final fist that Misty throws is the one that wins the match for her...but also breaks every rule of sportsmanship, whether that sport is wrestling or boxing. The low blow uppercut that Ms. James uses does its job. After watching her opponent crumple to the mat in pain, the blonde G.L.O.R.Y. Girl easily pinned the shoulders for the victory.

Photo:
Wrestlin' Wally

Bonus POD!

Picture #2

Bonus POD!
Photo:
Wrestlin' Wally
Bonus POD!
Picture #3
Bonus POD!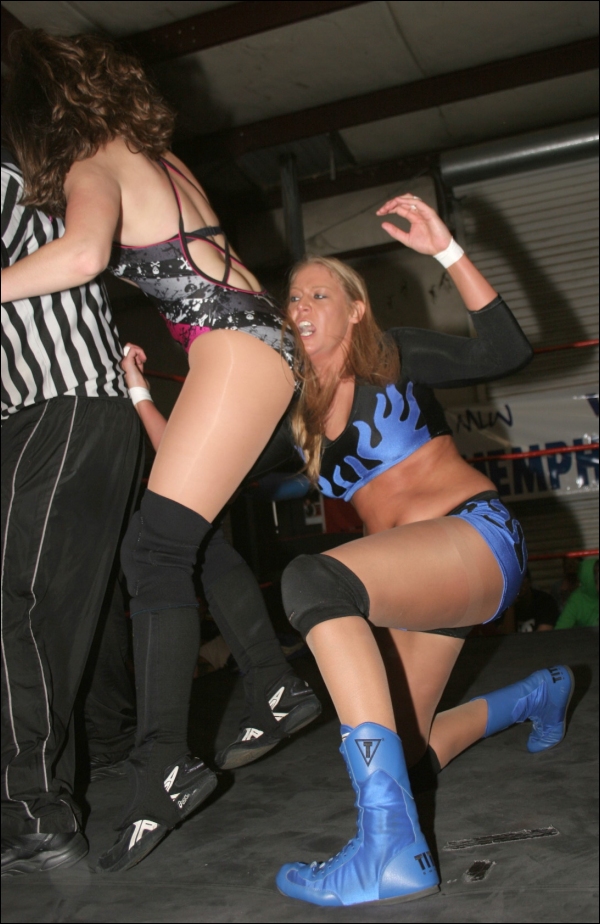 Photo:
Wrestlin' Wally