Picture Of The Day for October 4, 2008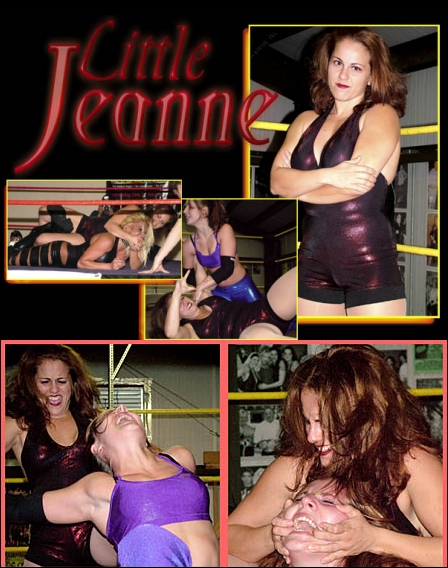 Jeanne Returns...Busy As Ever! Plus: A Classic Match!
After nearly two years away from the ring, G.L.O.R.Y. Girl Little Jeanne returns to action tonight as she takes on Brandi Wine for Memphis Ladies Wrestling in Tupelo, Mississippi. It's a return that all G.L.O.R.Y. fans have been anticipating!
So what's Jeanne been up to during her time off from the wrestling business. Oh, just a couple of things. Like Army boot camp. And, oh, she's a new mommy...little baby Clarissa joined the family over the summer. So much for sitting next to the pool and relaxing during her "time off"!
Jeanne is coming back with a bang. After tonight's MLW event, Jeanne is back in action next weekend in Boonton, New Jersey, making her WSU debut. The following weekend, yet another match for Jeanne as she travels to Egg Harbor City, New Jersey, for Force One Pro Wrestling action. A rumor we hear is that SHIMMER might soon be on Jeanne's schedule. We repeat that it's only a rumor...but what better rumor to see come true?!
The montage above is from a match between Little Jeanne and Lacey when the two ring wildcats met for SLAMminLadies.com. The match is several years old, but it's a classic encounter between ring vet and (at the time) newcomer. The match is available as a downloadable SLAMpeg from the SLAMmin site. Check it out here...just scroll down to the bottom of the page (it's the next to last video on the SLAMpeg list).
Meanwhile, Little Jeanne's G.L.O.R.Y. Profile has been updated to the new site format. New info, too! Check it out with the link below.
Welcome back, Jeanne! We missed you!
Photo:
SLAMminLadies.com