Picture Of The Day for June 27, 2008
Betsy Ruth Connects!
Let's wrap up our coverage of last month's ICWF DivaMania event with a look at some newer, non-G.L.O.R.Y. ladies. In this four-way dance, it was Betsy Ruth vs. Leva vs. Mimi Marie vs. Fetish in an elimination-style battle. And battle these ladies did!
In this six-sided ring, we're going to concentrate on that far left corner. That's where powerful Betsy Ruth carries on the tradition of her famous baseball ancestor and blasts some massive shots...except these shots don't end up going over the center field wall, they end up connecting with the jaw of her opponent! Talk about a power hitter!
Bonus POD!
Picture #2
Bonus POD!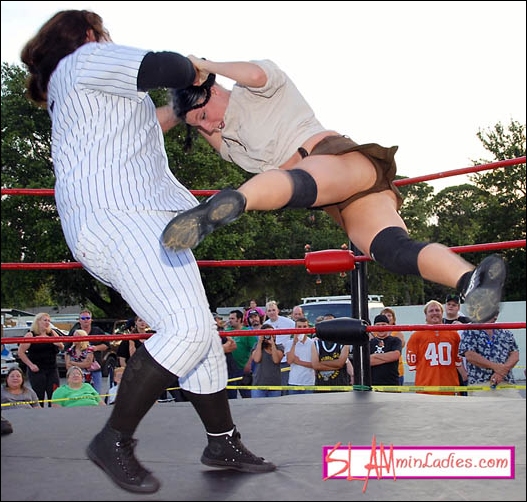 She Doesn't Just Hit For Power
Betsy Ruth is not just a hitter. She's what we'd call an "all-around" athlete. Just take a look at the picture above. It's easy to see that the legendary #3 throws as well as she hits! A hard landing is in store for this poor wrestler.
Bonus POD!
Picture #3
Bonus POD!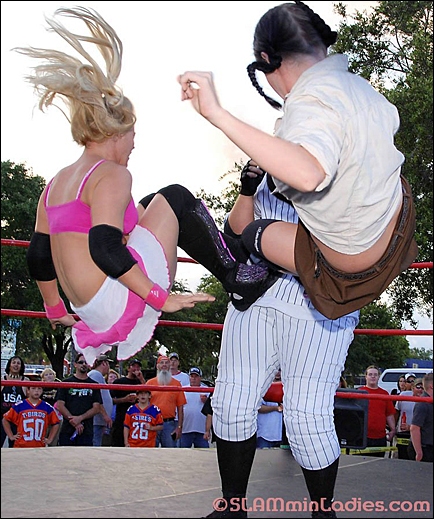 A Double Play!
After being tossed, pounded and pummelled by Ms. Ruth, these two ladies decided to team up for a dual dropkick to the body of the wrestling ballplayer. They were successful in turning the double play...Betsy Ruth was eliminated from this match.
But we have a feeling that you're going to be seeing a lot more from The Babe. In fact, we're sure of it because Betsy has contacted G.L.O.R.Y. about becoming a member of our Wrestler Roster. Watch for Betsy Ruth's G.L.O.R.Y. debut soon.
While you're waiting for Ms. Ruth's arrival on the G.L.O.R.Y. site, you can check out more pics of her in action...along with all the other ladies who were on the DivaMania card...by heading over to SLAMminLadies.com for a free preview. Of course, if you're a SLAMinMember already then you can see a ton more pictures from this exciting event. And don't forget that you can order the DivaMania DVD and picture disc, too. Lots for you to do and see over at SLAMminLadies. Use the convenient links below and have fun. Tell Lexie we said "hi"!