Picture Of The Day for April 12, 2008
We Hope Brandi Is Right-Handed!
We told you recently that G.L.O.R.Y. Girl Brandi Richardson--now finishing-up her law school studies--has devoted more of her time to training for the wrestling ring. She took a big step in her wrestling career last weekend when she participated in a tag match for UWC in Wilson, North Carolina.
Unfortunately, Brandi absorbed her share of punishment in this match...especially to her left arm. Brandi's opponent seemed to delight in working over the blonde beauty's arm as she attempted to yank the limb right out of its socket. Does it hurt? One look at Brandi's face answers that question!
Photo:
Wrestlin' Wally
Bonus POD!
Picture #2
Bonus POD!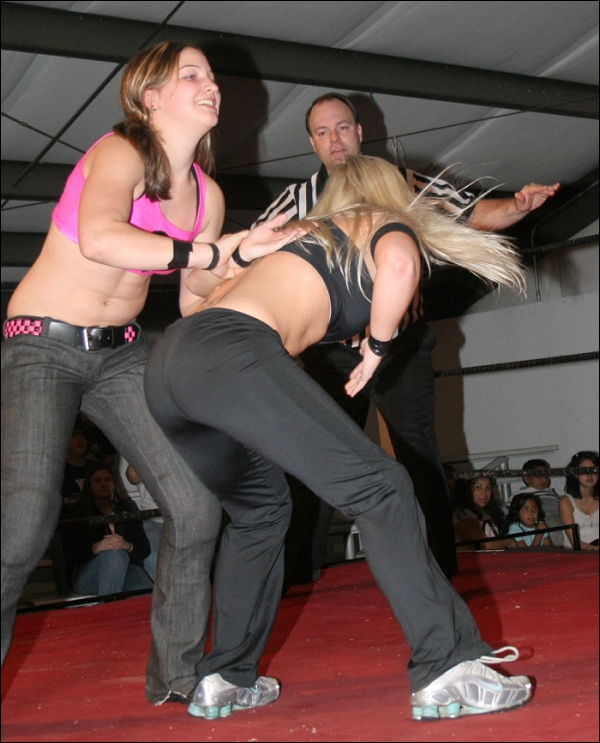 Hammerlock!
When her opponent couldn't get a submission with the previous hold, Brandi's arm torture continued off the mat as that same arm got twisted up behind her back in an agonizing hammerlock. Again, Brandi's opponent seems to be enjoying the punishment she's dishing-out. Notice the referee in the background? Brandi still won't submit!
Photo:
Wrestlin' Wally
Bonus POD!
Picture #3
Bonus POD!
Working The Elbow...
With her previous holds not causing the submission she was seeking, Brandi's opponent simply got more vicious. Take a look as she tries to lay some serious damage on that already bruised and battered left arm. Twisting the wrist, the black-hearted wrestler straightens the arm and locks-out the elbow...then prepares to stomp on the vulnerable joint!
We sure hope that Brandi Richardson is right-handed...
Photo:
Wrestlin' Wally