Picture Of The Day for February 22, 2008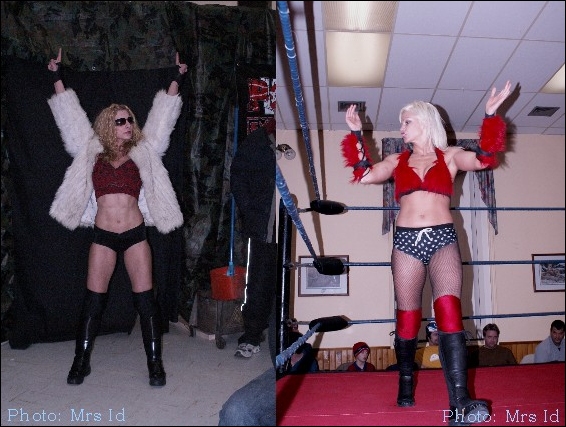 G.L.O.R.Y. Girls Collide!
Wow! JTW gets another day off as Mrs. Id (photos) and Gordo (match descriptions) team up to bring you today's G.L.O.R.Y. POD. Thanks, guys!
February 16th...Guelph, Ontario...PWA Extreme's War In The Ward: G.L.O.R.Y. Girls collided in a semi-main event war that had fans on the edge of their seats as Danyah, fresh off her GCW W.I.L.D. title win over fellow G.L.O.R.Y. Girl Portia Perez, faced Ontario rookie stand-out "Girl Dynamite" Jennifer Blake.
Danyah did little to let the jeers of the crowd bother her and Jennifer wasn't intimidated by Danyah's superior experience and championship resume. They tore into each other from the opening bell and delivered 15 minutes of heart-stopping action.
Photo:
Mrs. Id
Bonus POD!
Picture #2
Bonus POD!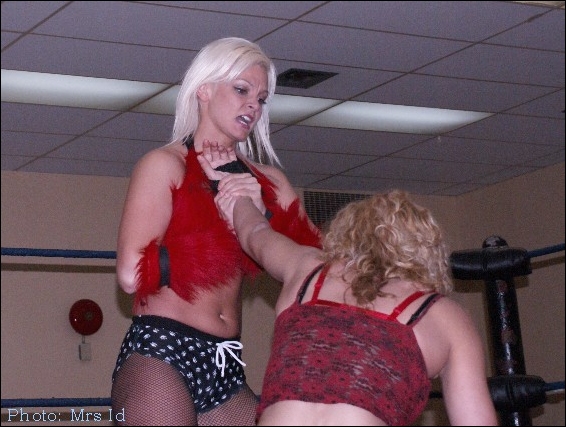 Jennifer controlled much of the early going by keeping Danyah off balance with a combination of mat-holds and aerial assaults. Blake then worked over Danyah's arm in an effort to wear down the Sin City Vixen.
Photo:
Mrs. Id
Bonus POD!
Picture #3
Bonus POD!
Danyah had no desire to out-wrestle Jennifer when there was an "easier" way to achieve victory...she resorted to dirty tricks to turn the tide in her favor, and once she had Blake on the mat she punished her with a reverse chinlock.
Photo:
Mrs. Id
Bonus POD!
Picture #4
Bonus POD!
It didn't take long for Danyah to turn that into a choke and Jennifer was helpless to escape the brutal hold. Danyah relished inflicting pain and punishment on "Girl Dynamite" and by the time the referee had spotted the illegal hold, the damage was done. Danyah was able to finish off a weakened Jennifer with her feared Thigh Master Guillotine Leg Drop and scored the victory. All Blake could do was hope for a rematch because she would be getting no retribution on this day.
Photo:
Mrs. Id