Picture Of The Day for February 21, 2008
Still Cocky After All These
Years

Days

Today's POD comes to us courtesy of LadySports fan/jack-of-all-trades/all-around good guy, Shiai. If you remember our POD of just a few days ago, Portia seems to be having some attitude issues lately...

Portia Perez and Nikki Roxx recently met up in Nashville, Tennessee, with Nikki's PGWA championship belt on the line. Having beaten Roxx in their last few non-title encounters, Portia figured she had this one in the bag as well. Perhaps that explains why she is not bothering to take advantage of her dazed opponent on the mat, and instead is focusing all of her attention on complaining to the referee about his work in this match (which Ms. Perez found to be decidedly sub-par, since the ref kept threatening her with disqualification each time she broke the rules).

Photo:
Darryl Gillikin/LadySports

Bonus POD!

Picture #2

Bonus POD!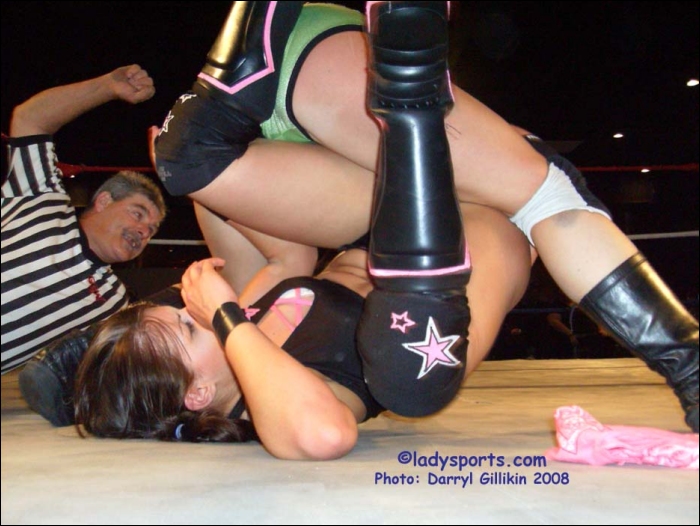 Shiai Gets All Philosophical On Us...
To quote the ancient proverb: "Pride goeth before a fall". Portia was so unconcerned about going for the pin, she gave Nikki just enough time to gather her wits and strike back with a roll-up, winning the match and keeping the PGWA belt around her waist.
PS: Hey Shiai, I appreciate you giving me the day off! JTW
Photo:
Darryl Gillikin/LadySports