Picture Of The Day for February 18, 2008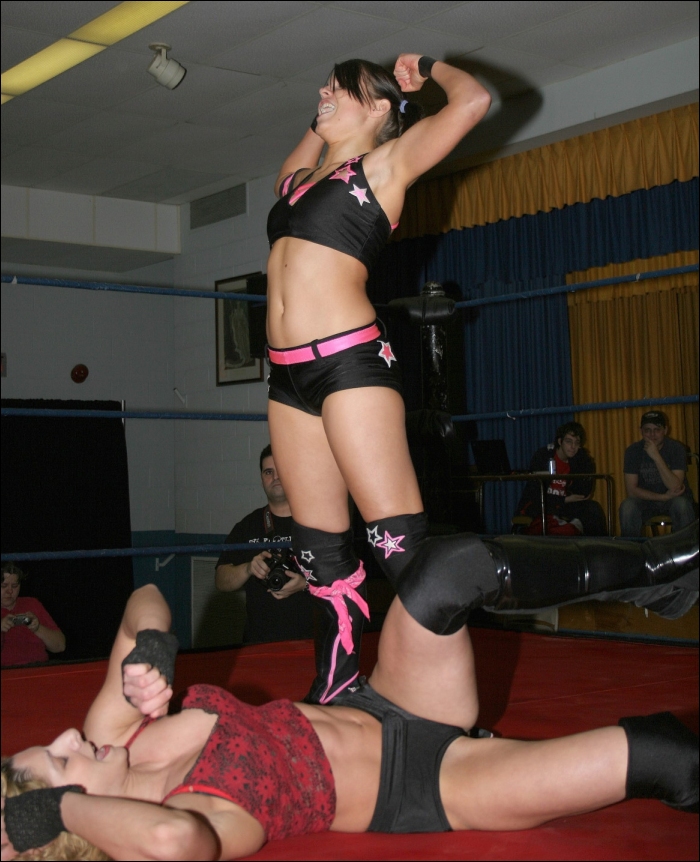 Pretty Frickin' Cocky...
G.L.O.R.Y. Girl Portia Perez...who has lately taken to calling herself Portia Frickin' Perez...seemed to be having quite an obnoxious night when she faced fellow G.L.O.R.Y. Girl Danyah for the GCW W.I.L.D. title in Ontario recently. Take this display, for instance. It was still very early in the match when Portia got the upper hand by putting Danyah down to her back. But looking at Perez as she flexes and shows-off for the crowd, you would think that she's already won the match!
Photo:
Wrestlin' Wally
Bonus POD!
Picture #2
Bonus POD!
What A Bully!
Even worse, when some ringside fans voiced their displeasure with Perez's cocky and arrogant attitude, she jumped out of the ring to confront them. But take a look: of all the fans that Portia could stand up to, she tried to bully one of the youngest fans in the arena! That's not frickin' awesome at all!
Tomorrow, we'll show you some more action from this match. Action where Portia takes on Danyah...instead of the fans!
Photo:
Wrestlin' Wally