Picture Of The Day for December 12, 2007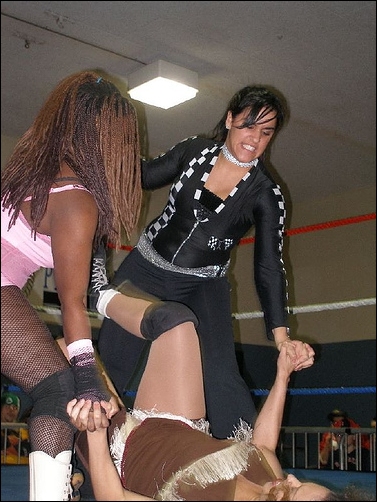 Barbie & Latasha Punish ALF!
November 30th found Alere Little Feather in a tough situation when the Native American grappler found herself involved in a three-way match against fellow G.L.O.R.Y. Girls Barbie and Luscious Latasha in Pembroke, MA for WWA.
As you can see here, Barbie and Latasha made a quick pact as they teamed up to batter and abuse Little Feather. Alere fought bravely...but she couldn't overcome the double-team and was soon tossed out of the ring.
Photo:
Instant Class Photography
Bonus POD!
Picture #2
Bonus POD!
But Latasha Gets Double-Crossed!
Unfortunately for Latasha, the team quickly dissolved when ALF hit the arena floor. Barbie wasted no time in turning on her luscious partner and taking the match right to her. Before long, Barbie flattened Latasha with her patented finisher, "The Facelift".
Photo:
Instant Class Photography
Bonus POD!
Picture #3
Bonus POD!
And Your Winner...
When the dust settled, ALF was left on the arena floor and Latasha was seeing stars on the canvas. Your winner: G.L.O.R.Y. Girl Barbie!
Photo:
Instant Class Photography