Picture Of The Day for December 5, 2007
Hair vs. Back
G.L.O.R.Y. Girls Kylie Pierce and Fate stepped into the ring recently. Not an unusual sight for sure...except that for this match, the pair were facing each other rather than fighting as a tag team. And the pretence of friendship went out the window early. While this front facelock hold that Kylie is using on Fate is perfectly legal, that reach around the back to pull the hair certainly isn't! Quite a sneaky way for Kylie to use that dirty piece of business away from the sight of the referee.
Photo:
Wrestlin' Wally
Bonus POD!
Picture #2
Bonus POD!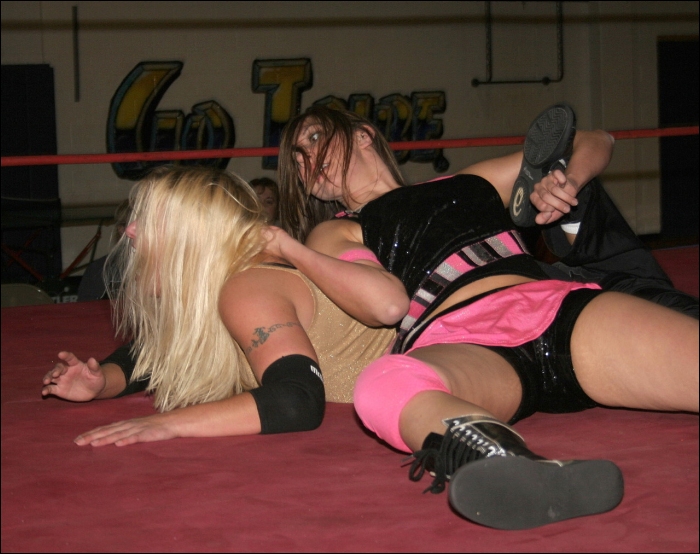 More Hair?
Once again, Kylie applies a legal hold. Well...mostly legal! Once again, that leglock she's using to keep Fate down on the mat looks like a good, technical hold. But then the brunette uses that right hand to once again go for a sneaky hair pull. We don't know if Fate is screaming from the pain of the leglock or the agony of the hair pull. Now that we think about it, it's probably a combination of both.
Photo:
Wrestlin' Wally
Bonus POD!
Picture #3
Bonus POD!
Back Pain To The Max!
Looks like Fate finally got tired of those dirty little hair yanks from her sometime tag partner. Did she respond with some hair pulling of her own? Nope. She wanted to lay a hurtin' on Pierce that would be much more devastating and last much longer than a silly hair pull. Do you think this over-the-knee backbreaker hurt much? It sure has to be more painful than having your hair pulled, right?
Photo:
Wrestlin' Wally