Picture Of The Day for November 18, 2007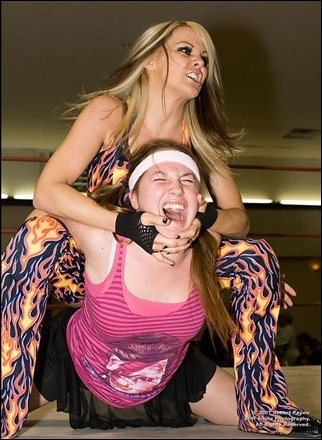 Roxie Cotton's Torment Continues...
Yesterday we showed you Talia Madison working on the lovely throat of fellow-G.L.O.R.Y. Girl Roxie Cotton during last weekend's NWS match in Ridgefield Park, New Jersey. Unfortunate as those attacks were, they weren't the only torment that Roxie was subjected to. At another time in the match, the 80's chick had her spine, neck and shoulders racked to the limit when Madison had her hooked-up in this painful camel clutch. How painful? The answer can be found in Roxie's face as she screeches in aguish while being punished in the agonizing hold!
Photo:
Robert Payes/Stiffshots
Bonus POD!
Picture #2
Bonus POD!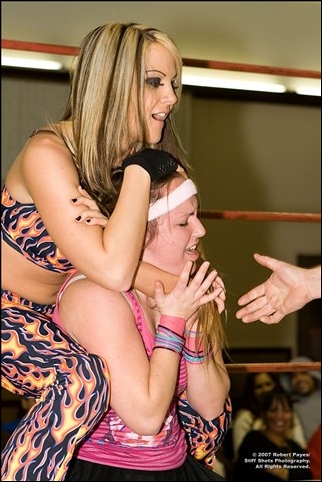 Nighty Night...
The good news is that Roxie's screams of pain didn't last for long. The bad news is that those screams didn't last long because Talia soon had the youngster struggling to remain conscious! Here Roxie tries to fight off her blonde enemy's sleeperhold...a tightly locked-in sleeperhold, no less. Cotton's eyes are fluttering closed. She's gasping for air. She's trying to dislodge the arm locked under her chin...
And it looks like Talia is enjoying every moment of her victim's suffering!
Photo:
Robert Payes/Stiffshots