Picture Of The Day for November 13, 2007
Payback Is A B*tch!
Yesterday we showed you how Alexa Thatcher manhandled Cindy Rogers during their WWWA Women's Title match last month in Germantown, Pennsylvania. Alexa went after Cindy with both barrels, battering her in the corner, snagging her by the hair and smashing her face into the ring apron. It was looking good for Thatcher at first. Problem is...once you use those tactics against Cindy Rogers, you can expect to get paid back double if she gets the upper hand. And--unfortunately for Alexa Thatcher--her opponent DID get the upper hand.
Thatcher knew she was in big trouble here when Cindy loaded up a big right hand, cocked it back and blasted it to the side of the blonde's skull. The shot laid Thatcher out...setting her up for further punishment.
Photo:
Wrestlin' Wally
Bonus POD!
Picture #2
Bonus POD!
A Punishing Leg Drop
After laying her opponent out, Cindy began her assault with this crunching leg drop. Notice the look of concentration on Ms. Rogers face. She's only interested in one thing: making sure that blow connects with her opponent's throat to do the most damage possible.
Photo:
Wrestlin' Wally
Bonus POD!
Picture #3
Bonus POD!
Hellooooo Turnbuckle!
Cindy continues with her attack...pulling Alexa to her feet so that she can run her across the ring for a face-first smash into the top corner turnbuckle. As the reformed Led Zeppelin would say, this blow left the beautiful blonde hanging in the corner ropes "dazed and confused".
And her punishment wasn't over yet...
Photo:
Wrestlin' Wally
Bonus POD!
Picture #4
Bonus POD!
Remember Those Stomps?
Remember those stomps to the lower stomach that Ms. Thatcher pummelled her opponent with earlier in the match? Cindy certainly remembers them! And now it's time for Rogers' revenge as she batters away at the blonde's midsection with her own gut-pounding boots.
Photo:
Wrestlin' Wally
Bonus POD!
Picture #5
Bonus POD!
She's Lost It!
You see...here's the problem with stepping into the ring against Cindy Rogers. It's tough to beat her with technical wrestling maneuvers. Her opponents are almost forced to break the rules to defeat her. But when they do--as Alexa tried early in the match--they chance turning this woman into a maniacal wrecking machine. Just look at Cindy Rogers face! Her opponent is really paying the price here as Cindy pays her back with a violent choke on the mat. Cindy seems intent on strangling Alexa within an inch of her life...maybe further!
Photo:
Wrestlin' Wally
Bonus POD!
Picture #6
Bonus POD!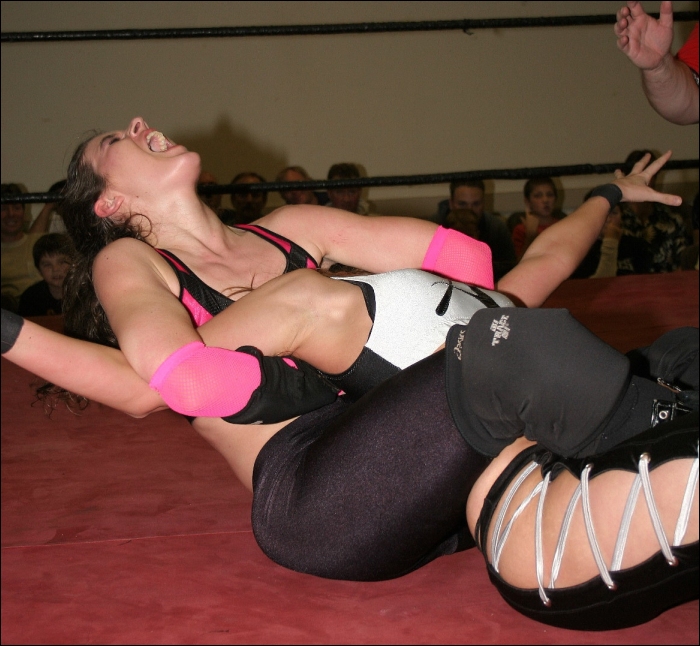 The Definition Earns Her Nickname
Once she pounded her opponent past the point of no return, The Definition Of Technician earned her nickname as she locked Alexa in this body-stretching scissors hold. Look at how Cindy pours it on as she lengthens Thatcher's spine, nearly dislocates her right shoulder and almost disengages her head from her neck. Could anybody survive this kind of punishment? Alexa couldn't...her submission came soon after this hold was applied.
Photo:
Wrestlin' Wally
Bonus POD!
Picture #7
Bonus POD!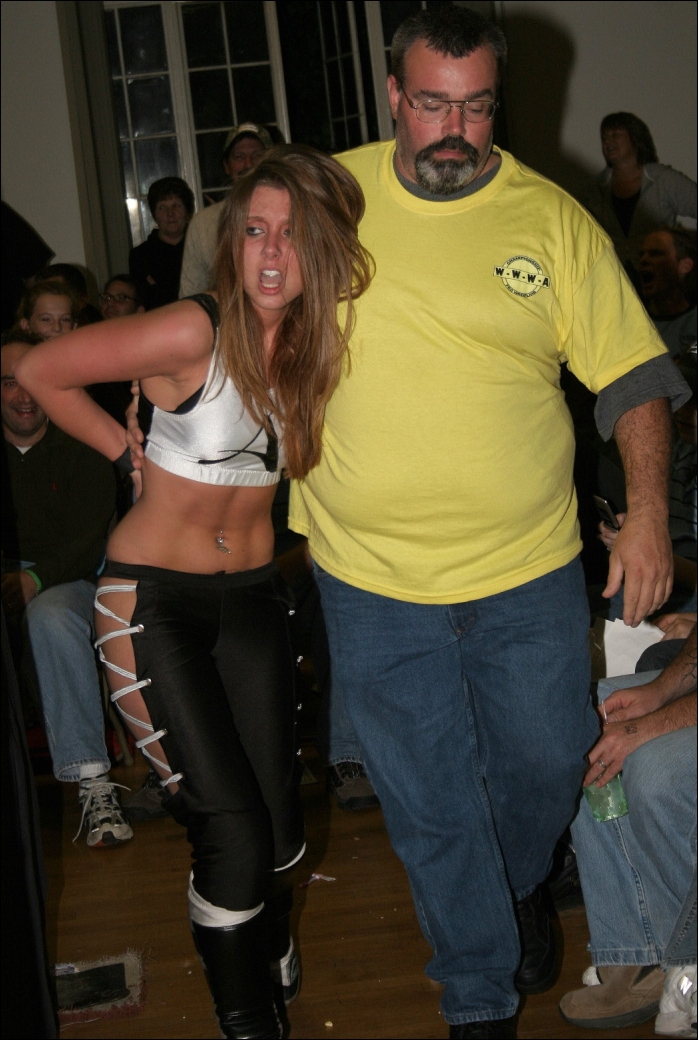 Helped From The Ring...
Alexa Thatcher is helped from the ring to the locker room after her beating at the hands, boots...heck, the entire body...of Cindy Rogers. It's actually a testament to the toughness of the blonde that she was able to make it out of the ring under her own power rather than carried out on a stretcher! We have a feeling that Ms. Thatcher will have second thoughts the next time she has the urge to sink her fingers into the hair of Cindy Rogers during a future match.
Photo:
Wrestlin' Wally
Bonus POD!
Picture #8
Bonus POD!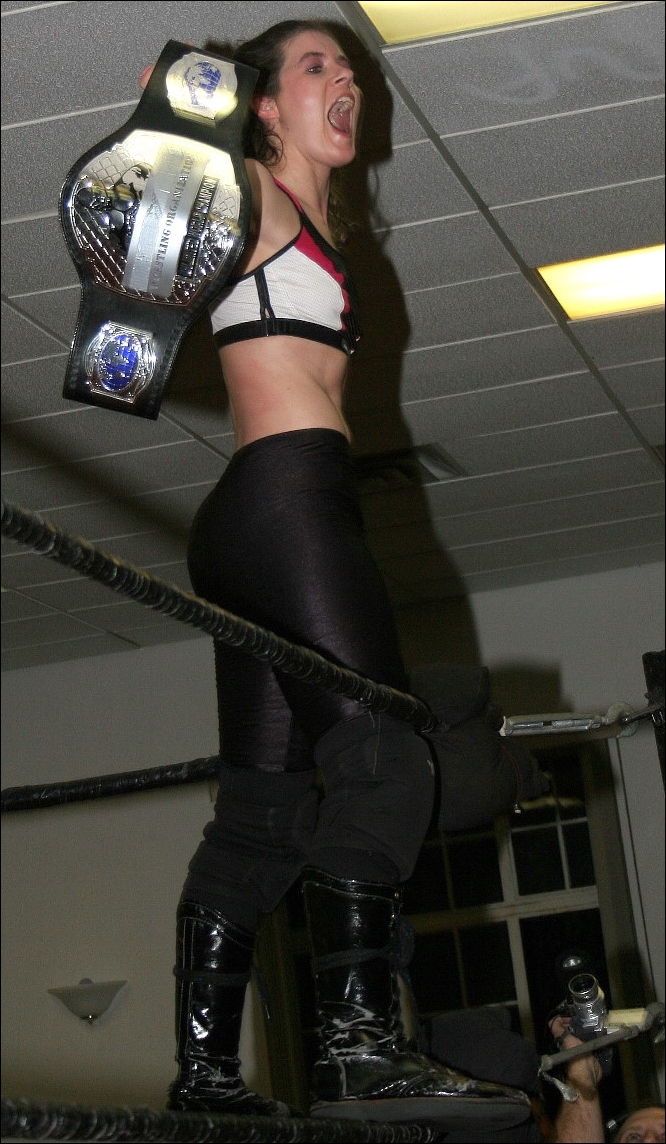 New WWWA Champion: Cindy Rogers!
Say what you will about her tactics...it can't be denied that Cindy Rogers is one of the toughest wrestlers in the ring today. That's why she's the lady screaming triumphantly from the corner ring ropes and holding the WWWA Championship belt aloft.
The lesson to be learned from today's and yesterday's POD? If you are facing Cindy Rogers across the ring and a bell rings, be prepared for anything. And don't tick her off!
Want to see more from this match...as well as plenty of other G.L.O.R.Y. Girls in action? Look no further than the camera lens of Wrestlin' Wally! Catch all his great wrestling photography at his new website: www.WrestlinWally.com.
Photo:
Wrestlin' Wally