Picture Of The Day for November 12, 2007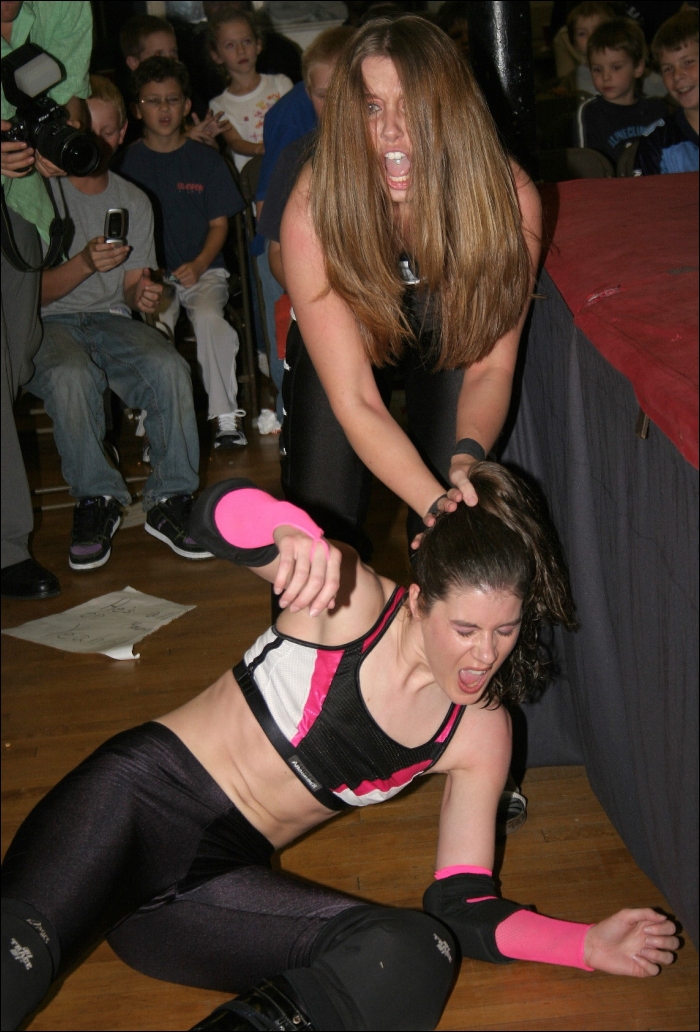 Cindy Rogers Gets Roughed Up?
When G.L.O.R.Y. Girl Cindy Rogers faced Alexa Thatcher last month for the WWWA Women's Title in Germantown, Pennsylvania, it looked like it was going to be a tough day for the self-proclaimed "Definition Of Technician". Tossed out of the ring, Cindy squeals in pain as Thatcher grabs the hair and prepares to haul the brunette to her feet.
Photo:
Wrestlin' Wally
Bonus POD!
Picture #2
Bonus POD!
Hellooooo Apron...
That lush hair turned out to be an effective handle for the out-of-control blonde as she smashed Cindy's face into the ring apron again and again. But this was only the final straw of the painful tactics that Alexa threw at her opponent.
Photo:
Wrestlin' Wally
Bonus POD!
Picture #3
Bonus POD!
Cornered & Battered
Earlier in the match, Ms. Thatcher had Rogers cornered against the turnbuckles where she landed some stiff stomps to Cindy's washboard abs. At least, it appears that the attack targeted the midsection. Alexa's boot looks to be dangerously close to being a low blow. Either way, the look on Cindy's face tells the world that there is no air left in her body after the blow.
Photo:
Wrestlin' Wally
Bonus POD!
Picture #4
Bonus POD!
A Skull-Rattling Knee
Even as Rogers slumped to the mat after the withering corner attack, Alexa continued to batter her with a series of knees to side of the head. Usually it's Cindy Rogers who dishes-out this kind of battering!
But as we said earlier...that hair pull and face smash to the ring apron was the final straw. If you are lucky enough to gain the advantage over Ms. Rogers for any period of time, you certainly won't hold it for long if you don't finish her off quickly. And Alexa Thatcher didn't. Tomorrow, we'll see what happens when you tick-off Cindy Rogers!
Photo:
Wrestlin' Wally