Picture Of The Day for November 4, 2007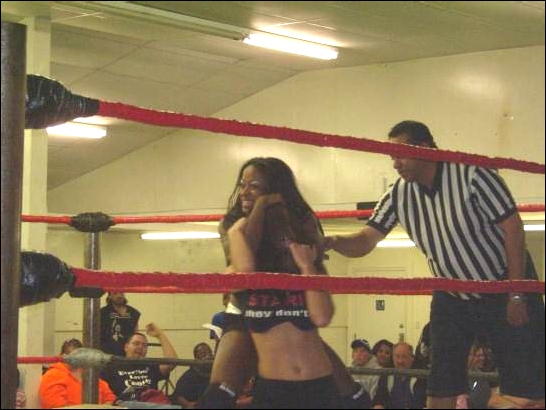 She gets by with a little help...
G.L.O.R.Y. Girl Josie was in action last night as she took on Amber Monroe at the Hoosier Pro Wrestling's "November Knockouts" event in Columbus, Indiana. Josie is in total control here (a fact made clear by the huge smile on her face!) as she tortures her kneeling opponent with a tight sleeperhold...a sleeperhold that could very easily turn into an illegal choke, we might add.
Photo:
Marcus A. Fine
Bonus POD!
Picture #2
Bonus POD!
...from her friends.
Not able to gain the victory via the sleeperhold, Josie decides to collect the win by getting a little help from her friends...the ring ropes! This backslide attempt at stealing the pin almost worked for Josie as the referee saw Monroe's shoulders secured to the mat while he slapped three. But the victory didn't stand as Hoosier Pro owner Jerry Wilson ran to the ring and refused to let the pin stand. Whether she was justified in arguing with the owner or not, that's exactly what Josie did. With her attention turned away from her opponent, it was an easy matter for Amber to roll up Josie from behind and wrap her up into a small package for the win!
Photo:
Marcus A. Fine
Bonus POD!
Picture #3
Bonus POD!
Beautiful Even In Defeat!
Even after taking the loss, Josie posed for this stunning picture after her match was over. Gorgeous? Yes. Sexy? Absolutely! And take a look into those eyes. You can tell that Josie is already planning how she is going to get her revenge on Amber Monroe and owner Jerry Wilson!
Photo:
Marcus A. Fine