Picture Of The Day for October 29, 2007
Flyin' Barbie
Promised action from Saturday night's three-way match for TSW's Ladies Championship between Barbie, Miss DeVille and Roxxi.
Early on, Barbie was flying...but not in a good way. The G.L.O.R.Y. brunette is flying through the air here courtesy of her opponents who are about to plant her face-first into the mat with a double bulldog. But the eventual winner of the match turned things around later in the match and was soon sending her opponents flying around the ring. Below, you'll see Barbie tossing Roxxi halfway across the ring with a perfectly executed arm drag. The newcomer bounces right back up and comes back at Barbie...only to get nailed again--this time with a big, big flying dropkick--that sends Roxxi sprawling back to the canvas. The fired-up G.L.O.R.Y. Girl cleaned up the ring with her two opponents to walk away with the TSW Women's Belt.
Just a side note: Is that Ref Matt Bennett we see watching the action along the far ropes? What's he doing way up there in Vermont?!
Photo:
Gary Braham
Bonus POD!
Picture #2
Bonus POD!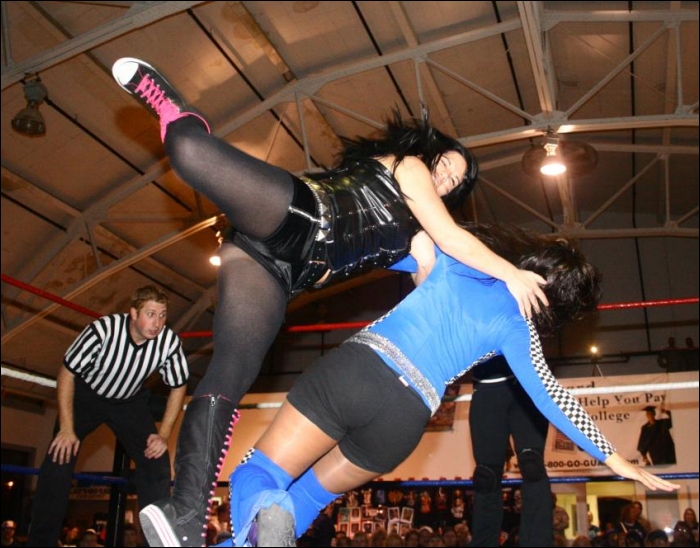 Photo:
Gary Braham
Bonus POD!
Picture #3
Bonus POD!
Photo:
Gary Braham