Picture Of The Day for October 26, 2007
Portia vs. LuFisto: A W.I.L.D. Finale!
We've been watching the preliminary action from GCW's recent 2007 W.I.L.D. Tournament over the last few days, and it's time for the final battle. The contestants who fought their way through the tough competition? None other than G.L.O.R.Y. Girls Portia Perez and LuFisto!
Here we see that Portia is every bit as tough as--and maybe even a little more vicious than--her opponent LuFisto. This is supposed to be a rear chinlock...but it looks suspiciously close to choke from where we're standing.
Photo:
Mrs. Id
Bonus POD!
Picture #2
Bonus POD!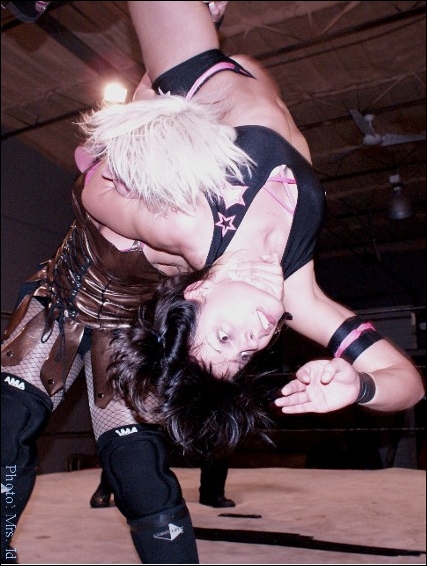 LuFisto Gets In Her Licks...
LuFisto didn't just sit there and take Portia's abuse without responding. There was plenty of offense on the part of the Anime Warrior. Here, for example, Lu is in the middle of slamming Portia to the canvas...and that's after torturing the young wrestler across her shoulders in a spine-stretching back breaker hold. Portia looks concerned (and she should be!) as she sees the mat coming up on her fast.
Photo:
Mrs. Id
Bonus POD!
Picture #3
Bonus POD!
Your New W.I.L.D. Champion: Portia Perez
Whether she's blonde or brunette, Portia Perez continues to impress fans all across North America with her mental toughness and physical abilities. After defeating LuFisto to win the 2007 W.I.L.D. Championship, Portia leaves the ring with her newest title belt. But that might be a mixed blessing for the young Canadian. Opponents will no longer be looking at her as an up-and-coming ring grappler. Instead, they'll be taking every match against Portia seriously, while fighting her as hard as they possibly can. But we're sure that Ms. Perez is up for the challenge and we're also sure that there will be a lot more championship belts in her future!
Photo:
Mrs. Id