Picture Of The Day for October 15, 2007
Please bear with us as we work to update our POD Archive pictures and descriptions into the new site format. Thank you.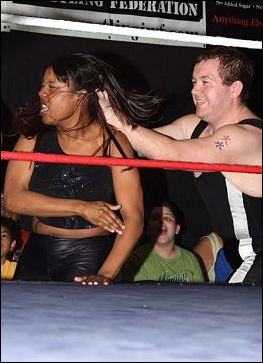 Photo:
Michelle McDaniel
Bonus POD!
Picture #2
Bonus POD!
Photo:
Michelle McDaniel
Bonus POD!
Picture #3
Bonus POD!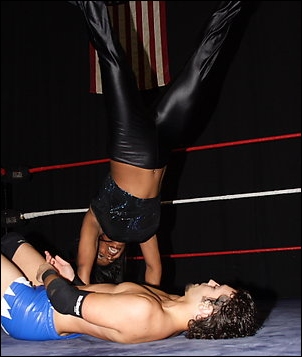 Photo:
Michelle McDaniel
Bonus POD!
Picture #4
Bonus POD!
Spotlight On Jana!
G.L.O.R.Y. Girl Jana calls IWF Wrestling in West Paterson, New Jersey home. As the only girl currently on their roster, Jana almost always finds herself battling the IWF men...and the men certainly don't take it easy on the G.L.O.R.Y. beauty. These guys often throw the rule book out the window in these intergender matches, with Jana's gorgeous long hair often taking the brunt of their attacks. Our girl has been subjected to everything from having her hair used to smash her face into the ring apron, to having her hair pinned to the mat to make an arm and neck stretch even more painful.
How does Jana retaliate? She uses her acrobatic and athletic ability! One of her favorite maneuvers is to come off the ropes and launch into a cartwheel which ends with her promptly dropping onto her downed opponent. The extra velocity of the cartwheel adds to the devastation of the body splash which usually knocks the wind completely out of her flattened foe. More often than not, the result of Jana's athleticism is a victory...a victory that brings loads of delight to the IWF fans!
You can see more of Jana and the rest of the IWF roster at the fantastic Independent Wrestling Federation website. You can check it out at: CampIWF.com.
Photo:
Michelle McDaniel