Picture Of The Day for October 7, 2007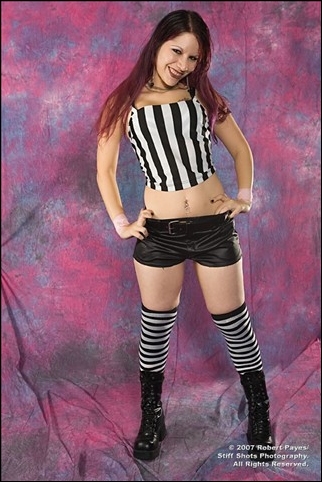 Ref Foxy
Foxy Foxxy is a woman of many talents. This long-time G.L.O.R.Y. Girl has worked as a wrestler, manager and ring announcer during her wrestling career. And lately, Foxy's been spending a lot of time wearing the stripes as the sexiest referee in the Northeast!
Photo:
Robert Payes/Stiff Shots
Bonus POD!
Picture #2
Bonus POD!
Lolita Foxy
But when Foxy isn't working in or around a wrestling ring, she also likes to do a little modeling...such as here, where she dons a pair of Valentine-themed sunglasses and enjoys her cherry lollipop while doing her best Lolita interpretation for the camera of photographer Robert Payes. Looks like Foxy is thinking about something. We bet it's how she can continue to dominate the New York/New Jersey indy wrestling scene!
Photo:
Robert Payes/Stiff Shots