Picture Of The Day for October 5, 2007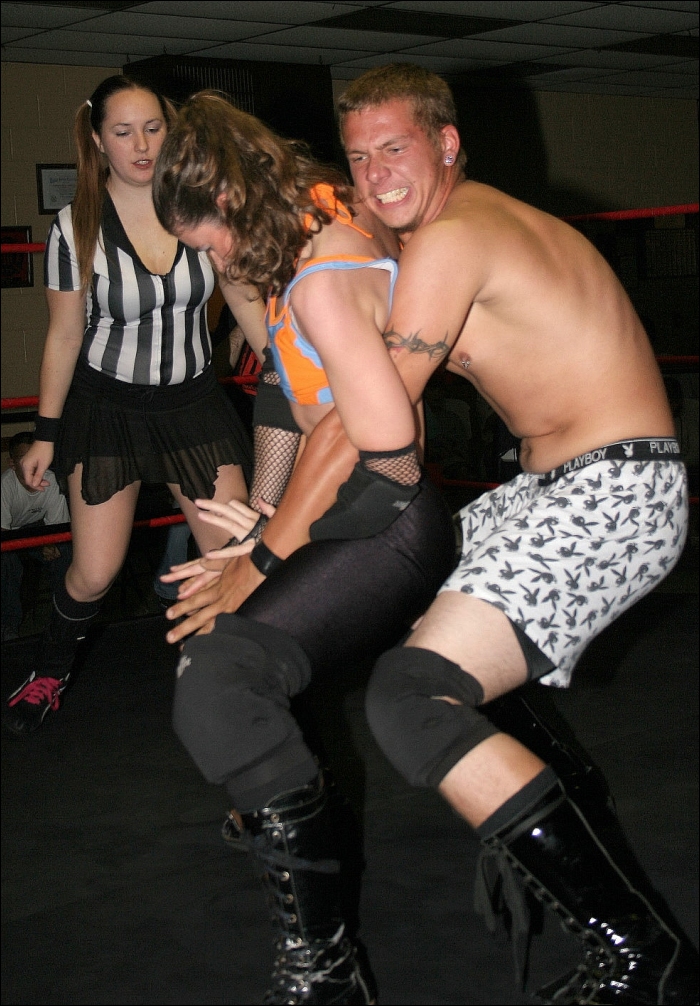 Definition Of Technician
Last weekend's DCW show in Bowers Beach, Delaware found G.L.O.R.Y. Girl Cindy Rogers in an unusual situation as she competed in a singles intergender match against "Party Guy". This isn't a first for Cindy, but it's not often that we see her taking on male opponents. Why did she do it this time? Well, it seems that this knucklehead questioned why the women's championship was restricted to female wrestlers. He then challenged Cindy, who is the current DCW Women's Title holder. While it was clearly an outlandish challenge, Cindy took it in stride and actually accepted the offer...putting her title on the line!
As ref (and fellow G.L.O.R.Y. Girl) Roxie Cotton looks on, the match began with this guy thinking he could out-muscle Cindy. Bad idea! We've seen enough of Cindy Rogers in the ring to know that, although not bulky, every bit of her frame is well-toned, well-conditioned and strong. Sure enough, the rear bearhug that Rogers found herself in didn't last long as she pried her opponent's arms from around her body. Right about now, Party Guy is realizing that Cindy is well-qualified to match him in the strength department!
Photo:
Wrestlin' Wally
Bonus POD!
Picture #2
Bonus POD!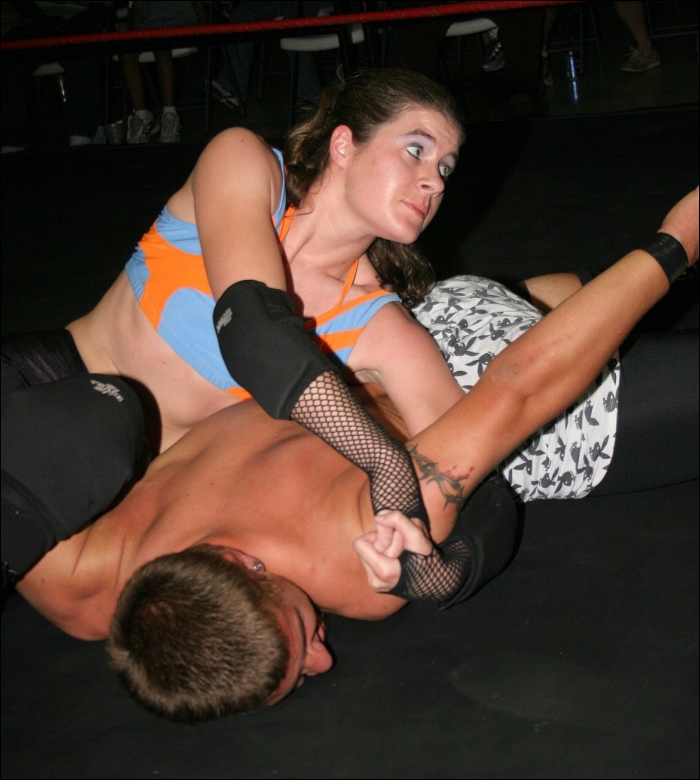 Stretched & Locked
So much for the challenge this guy posed to Roger's Women's Title! Once down on the mat, the Definition Of Technician took over and didn't look back. Here we see Cindy applying one of her patented holds...scissoring her opponent's right bicep while locking her arms around his left shoulder. Party Guy finds himself stretched, locked-up and immobile in a position that leaves him virtually no room to maneuver. Meanwhile, Cindy matter-of-factly looks over at Ref Roxie...waiting patiently for this guy to scream out his submission.
Needless to say, Party Guy is NOT the new DCW Women's Champion.
Wrestlin' Wally is back online! Check out his new site full of action galleries, show descriptions and a calendar of where he and his trusty camera will be in the coming weeks. And make sure you tell Wally we said "hello" when you see him during intermission!
Photo:
Wrestlin' Wally