Picture Of The Day for September 18, 2007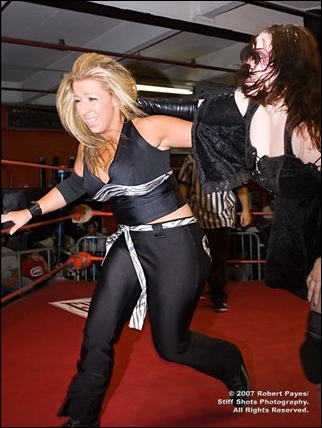 Suicide?
What was Alicia thinking? Yes, we know that the blonde beauty is one of the most accomplished and talented wrestlers in the Northeast. But to accept a match against the brutal--and some say unstable--DellaMorte? That's just crazy! But that's exactly what Alicia did this past weekend when she met the Gothic Goddess for WUW in Brooklyn, New York.
When the match started, it was pretty much what everyone expected: DellaMorte went on a rampage! Here she's got a handful of Alicia's golden locks as she prepares to run her face-first into the corner. You can even see the blonde preparing for the blow as she sees that top turnbuckle quickly getting closer and closer.
Photo:
Robert Payes/Stiff Shots
Bonus POD!
Picture #2
Bonus POD!
Comeback!
But if there's one thing that Alicia is not, it's a quitter. In fact, the long-time G.L.O.R.Y. Girl fought back and dished out her own punishment to the overpowering DellaMorte. Here, both ladies are going to hit the mat hard...but it's the big goth-girl who will take the brunt of the blow as Alicia catches her off the ropes with a flying clothesline.
Photo:
Robert Payes/Stiff Shots
Bonus POD!
Picture #3
Bonus POD!
Winner!
In the end, Alicia not only survived in her battle against the dangerous DellaMorte...not only held her own...but actually walked away with the win and the WUW Women's Title belt! But this short-term victory may turn into long-term danger for Alicia: the next time she faces DellaMorte, expect the dark demoness to be even more violent in her quest for revenge and destruction.
Photo:
Robert Payes/Stiff Shots