Picture Of The Day for September 12, 2007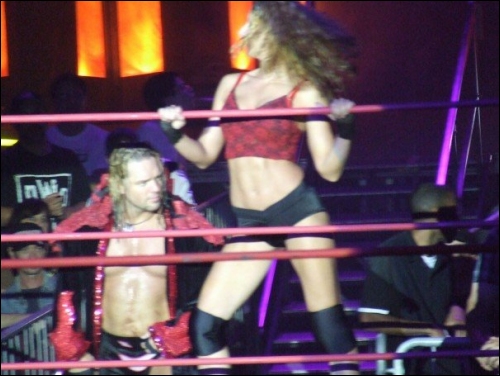 Manager Devious Danyah
We all know Danyah as one of the most talented and promising young wrestlers breaking out on today's Ottawa indy wrestling scene. But the Canadian G.L.O.R.Y. Girl also tries her hand at managing every now and then. Recently, the gorgeous blonde managed her trainer, Johnny Devine, at a recent Wrestling Supershow. Without a doubt, all eyes were on Danyah as she led her man into the ring for his bout against Psycho Sid Vicious.
Bonus POD!
Picture #2
Bonus POD!
Things didn't go so well for Devine despite Danyah's numerous tactics. The eye-catching manager tried to influence the outcome by distracting the ref. She tried to play with the mind of Vicious. She even tried to take the fans out of the match by distracting them (although we can't believe that that would be too hard for her!). Despite her best efforts, her man ended up on the receiving end of a chokeslam and two powerbombs before losing the match.
Don't forget to enter the WSU/G.L.O.R.Y. Wrestling contest on our home page. Answer the contest question and get in on your chance to win a pair of tickets to the September 22nd WSU event in Lake Hiawatha, New Jersey, PLUS a DVD of WSU's amazing Women's Title Tournament. It's easy and fun. Give it a try! You can't win it if you're not in it.