Picture Of The Day for July 4, 2007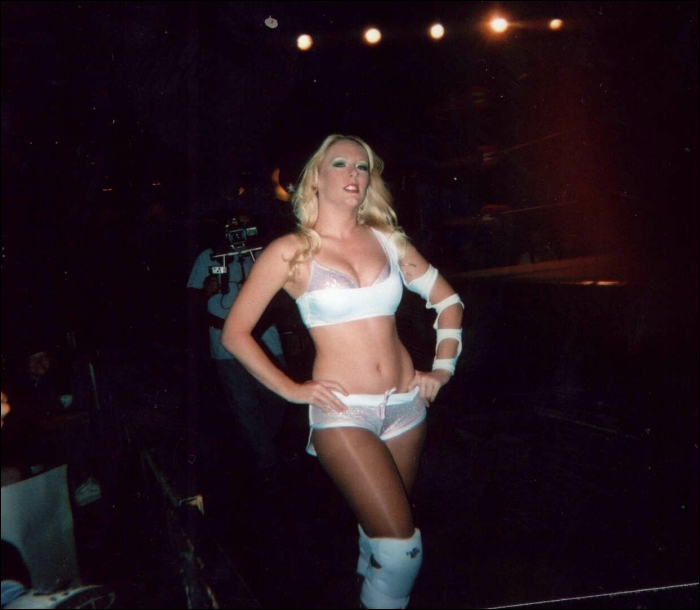 SHIMMER In Inverness, Florida
SHIMMER made its Florida debut this past weekend with a show utilizing the talents of many of our G.L.O.R.Y. Girls...one of which you see here, Amber O'Neal. Along with the G.L.O.R.Y. ladies, our own Louis Wright made the trip to see the action with camera in hand. Unfortunately, that camera may have caused him more aggravation than it was worth. As soon as he snapped this photo of Amber heading to the ring for her match, the sexy blonde came right up to Lou and demanded $5 for the photo. Apparently, O'Neal feels that fans should pay her for the right to photograph her! But then it really went downhill from there for the long-time G.L.O.R.Y. fan...
Photo:
Louis Wright
Bonus POD!
Picture #2
Bonus POD!
Get That Camera Off Of Me!
It looks like G.L.O.R.Y. Girl Rain is just as camera-shy as Amber. Well, at least when it comes to posing for "free" pictures. When Louis tried to get this shot of the Minnesota native heading to the ring, Rain actually covered up her face from his lens! She also demanded money from Lou. Another five bucks?! At this rate, he'd have to hitchhike back home...he wouldn't have the cash to fill-up the tank of his Vega for the trip back to Louisiana!
Photo:
Louis Wright
Bonus POD!
Picture #3
Bonus POD!
Success At Last...
Finally, Lou was able to get that photo with Rain. But only after some haggling about the price, we suspect. Even as the picture is being snapped, Rain makes sure that Louis remembers to pay up. If that wallet doesn't come out of his back pocket soon...POW! RIGHT IN THE KISSER!
Photo:
Louis Wright