Picture Of The Day for May 26, 2007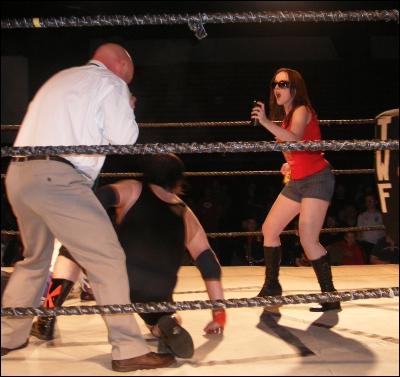 Lexx's Boo-Boo
Uh-oh! Looks like Lexx made a boo-boo at the IWF/Ring Of Faith event back in March.
The British G.L.O.R.Y. Girl was at ringside with her partner-in-crime Billy Morrison during a match in which their ally, Joey Wright, was wrestling against Lee Kyle. Nothing wrong with a little cheering section from outside the ropes...except Lexx just couldn't stay out of the ring. When her man got in trouble, she and Morrison jumped into the ring to help him out. While Morrison held their enemy from behind, Lexx prepared to spray him in the eyes with some kind of toxic substance. Unfortunately for Morrison, Kyle broke free of his hold and dodged out of the way at the last moment as Lexx nailed her own partner with that stream of spray! Not one of Lexx's prouder moments, for sure...
But you can catch more action from Lexx online at Lexx-TV. Check out several of the U.K. G.L.O.R.Y. Girl's hard-hitting, full-length matches. And remember to check back at Lexx-TV often...new matches are being added all the time!