Picture Of The Day for May 4, 2007
Ariel Gets Nasty
Back again to last weekend's NMW event in Belleville, New Jersey...but this time we're going to check out the mixed tag match pitting Ariel and Erik Andretti against April Hunter and JD Michaels. Contrary to what you might expect, it was our dear Ariel who showed a vicious mean streak as she and her partner threw the rulebook out the window in this contest. Above, after tagging in Ariel, Andretti keeps a front facelock in place on Michaels. While Andretti holds up his opponent's arm, Ariel comes in and sends a nasty kick directly into the exposed ribcage of the trapped JD.
Photo:
Robert Payes/Stiff Shots
Bonus POD!
Picture #2
Bonus POD!
And The Beating Continues!
Still sore from Ariel's kick, Michaels can't defend himself as the nasty G.L.O.R.Y. Girl once again targets the ribs...pounding away with a series of fists to the tender area. Even our favorite ref, Matt Bennett, doesn't like what he sees as he prepares to warn the brunette about the illegal fists she's throwing. And take a look at Ariel's face: we can't remember ever seeing her look this out of control in the wrestling ring!
Photo:
Robert Payes/Stiff Shots
Bonus POD!
Picture #3
Bonus POD!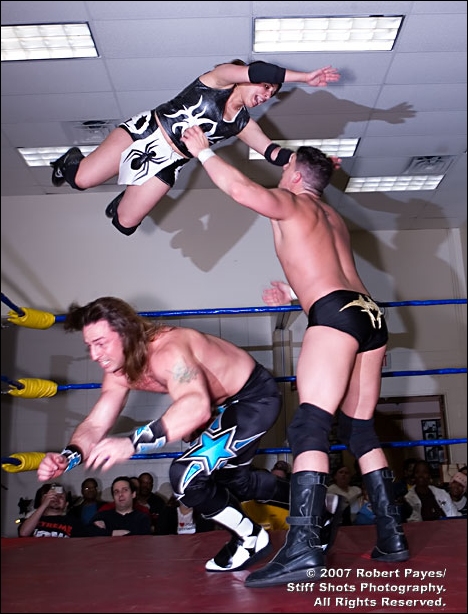 Uh-Oh...
Unfortunately (well, for them anyway), the underhanded tactics of the devious pair ended up backfiring. After climbing to the top rope, Ariel planned to come down with a body splash to flatten Michaels...who was trapped in an Andretti full nelson. But things got screwed-up when Ariel's incompetent partner let their victim slide out of the hold at the last second. Instead of landing on Michaels, Ariel ended up diving onto her own partner. The maneuver left both of them on the mat, dazed and seeing stars!
Photo:
Robert Payes/Stiff Shots
Bonus POD!
Picture #4
Bonus POD!
April Takes Charge
That's when April came in to clean things up for her team. Big Red targeted her fellow G.L.O.R.Y. Girl...with one of the knock-out blows being this brutal clothesline that nearly decapitated Ariel! The match ended with Ref Bennett slapping the mat three times as the rough redhead firmly pinned Ariel's shoulders to the mat.
This was definitely one of the toughest mixed matches we've seen in quite some time!
Photo:
Robert Payes/Stiff Shots