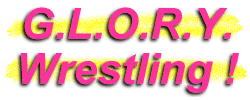 Yvonna Leach
Manager
New England manager Yvonna Leach has an allegiance to only one man: Big Vigo. Brought into the world of pro wrestling by Alexzandra Heiress to work as her personal assistant, Yvonna eventually broke away from her former mentor to manage her own man...and she will do anything to make sure her man wins. When this ringside menace is in the house, expect chaos to ensue!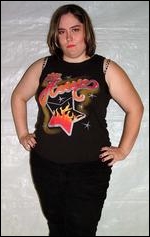 Yvonna Leach!
Yvonna has plenty of attitude...
Yvonna glares at some ringside hecklers.
Yvonna Leach's Stats...
Height:

5' 3"

Weight:

150

Hair:

Brown

Eyes:

Brown

Hometown:

Rutland, Vermont (USA)
Yvonna Leach's Profile...
How It Started:

I would watch wrestling with my Dad when I was little, so I have always loved wrestling. Skipping ahead a few years, I started dating and ended up getting married to a guy that started wrestling in 2001 (we started dating in 1996). He joined a group with Maxx Buton and fellow G.L.O.R.Y. girl Alexzandra Heiress and she took me under her wing.

Gimmick:

Rich businesswoman.

Outfit/Costume:

Business...casual but low cut.

Manager Of:

Big Vigo.

Have Managed:

Alexzandra; Scotty Vegas.

Biggest Allies:

Big Vigo; Alexzandra; Maxx Burton; JP Black; Drake Evans.

Most-Hated Enemies:

Superbeast.

Career Highlight:

Right now, I feel my career highlight was a June 26th show. A very close friend and fellow wrestler had passed away a year earlier and the Heiress Foundation honored him in our own special way.

Favorite Wrestlers:

Hulk Hogan.

Wrestling Ambition:

I just want to have fun. I'm happy doing what I'm doing and if it leads to something, so be it. What will be, will be!
Yvonna Leach's Personal Notes...
I work as a manager in a real estate office.....I have a bachelors degree in Computer Information Systems.....I love all types of music. Country to rap, I love it all.....I also enjoy reading. JD Robb, Janet Evanovich and Archer Mayor are a few of my favs. I have over 300 books!.....I am obsessed with Buffy the Vampire Slayer and Angel......When I have some extra time, I get together with a group of people and play RPG's. We call ourselves "Game Club" but we also hang out, watch movies and have cookouts. I am such a foodie! I love to try new recipes.....Speaking of movies, a few of my favorites are: The Princess Bride (Andre The Giant RIP), Finding Nemo and The Crow movies, but it is so hard to decide as Vigo and I have over 350 movies to choose from!.....Love to all! XOXO
Essential Yvonna Leach Links...