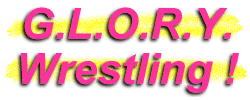 Miss Michelle
Manager
She's gorgeous. She's sexy. And she keeps things hot at any ring she works. It's Miss Michelle! This brunette beauty has been wowing Northeast wrestling fans since she first started in the business as a teenager. Whether she's hosting a wrestling talk show, getting involved in a wild catfight with a rival ringside vixen, or simply looking stunning in her newest skin-tight dress...Miss Michelle is one lady who commands attention!
The beautiful and sexy Miss Michelle!
Miss Michelle looking hotter than hot.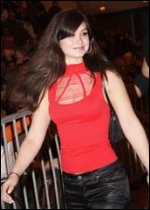 Miss Michelle heads to the ring.
Michelle with a big smile as she holds her man's gold.
Miss Michelle + bikini = WOW!
Miss Michelle's Stats...
Height:

5' 3"

Weight:

115

Hair:

Brown

Eyes:

Brown

Hometown:

New York City, New York (USA)
Miss Michelle's Profile...
How It Started:

My love for professional wrestling all started on April 1, 1990 watching WrestleMania 6. My dad insisted that I watch the main event with Hulk Hogan vs. The Ultimate Warrior. I was mesmerized and hooked ever since! I remember it just like it was yesterday, thinking how awesome wrestling is and why didn't I start watching it sooner? And since then, my life has never been the same! I cannot emphasize enough how much wrestling has brought to my life...and how I am convinced that I was meant to be a part of it and become successful and famous because of it!

Gimmick:

I definitely have the Stephanie McMahon gimmick in me. I am a little, spoiled princess who gets everything I want. I think I may have a small part of that gimmick in me in real life!

Outfit/Costume:

I always dress very sexy and classy, whether it's skirts, dresses or leather pants. Flattering and a little revealing is what usually suits me! I try to match colors with whomever I'm managing at the time.

Manager Of:

Reckless Youth; Don Montoya; Matt Striker; Kid Kruel; Julio Dinero; Rob Eckos; Romeo Valentino; Tyler Payne; The Solution; Doug Delicious; Danny Doring.

Have Managed:

I have managed the tag team of The Boogie Nights, Blast from Demolition, Lord Zeig, Derranged, Ace Darling, El Gringo and Danny Demanto.

Biggest Allies:

Missy Hyatt, Tammy Sytch, Becky Bayless, Extacy, Valentina, Noel, Dawn Marie and Bobcat are the coolest and sweetest girls to hang out with inside and outside of wrestling!

Most-Hated Enemies:

Missy Hyatt and Tammy Sytch...for double-teaming me and trying to beat me up. And my catfights with Extacy and Noel stand out in my mind as far as ring enemies.

Career Highlight:

So far, I would say my first catfight with Missy Hyatt and then having her and Tammy Sytch try to beat me up afterwards. They are the most popular divas of their time and definitely paved the way for the future divas of professional wrestling. It was an honor and a pleasure working with them and I learned a lot...not to mention having a blast, too! And of course every time I work with my husband, Julio Dinero, it is always a blast!

Favorite Wrestlers:

Definitely "The Heartbreak Kid" Shawn Michaels! He is my absolute dream guy! Also: Julio Dinero; Randy Orton; Kurt Angle; The Rock; Chris Jericho; Molly Holly.

Wrestling Ambition:

To make it to the WWE and become their most powerful, dominant, popular, sexiest diva ever...without having to wrestle. : )
Miss Michelle's Personal Notes...
I was an analyst for the WWE until I moved. I analyzed and critiqued their shows and provided them with feedback and opinions! I began hosting wrestling talk shows on March 17, 1996. Down to the Mat, The Wrestling Connection, and Ringfever are seen on Staten Island and Brooklyn cable.....I was the special guest star twice on the Staten Island Cable late night talk show After Hours.....I appeared on The Sopranos, the movie The Object of My Affection, and The Horse Whisperer...as well as modeling in several magazines and textbooks.....Besides my love for wrestling (being number one, of course!) some other interests of mine include: dancing, working out, watching movies, traveling, ice-skating, acting, modeling, shopping, going to the beach, clubbing, Broadway shows, tennis, horseback riding and hanging out with the love of my life, my hubby, and my friends.....I have an adorable pug named Phelstar.....My favorite colors are pink, black and red.....My favorite cities to visit are Honolulu, Los Angeles, San Diego and Las Vegas.....I graduated from college with a degree in Communication Arts in May of 2004.....I currently work for an advertising agency in New Jersey and I love my job!
Essential Miss Michelle Links...