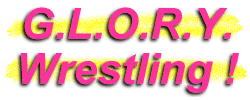 Lady Amazon
Manager
Six-feet tall and 170-pounds...how can you possibly miss this imposing lady as she stands ringside? Lady Amazon is truly a big factor during any match in which she participates. Opponents of the men she manages are required to keep an eye on this tall, powerful lady lest they find themselves the victim of some "unintentional" interference. Lady Amazon is one lady whom you would definitely want to have in your corner.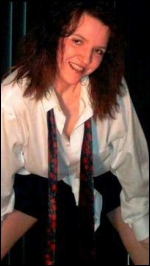 It's hard to miss this 6-foot tall manager at ringside!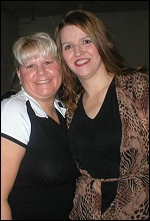 A powerful pair: Fantasia and Lady Amazon.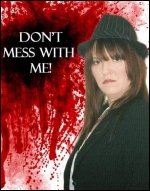 Some advice from Lady Amazon...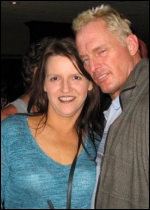 Lady Amazon with friend and favorite, Sandman.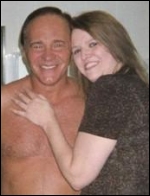 Lady Amazon has managed the legendary Larry Zybyzko.
Lady Amazon's Stats...
Height:

6' 0"

Weight:

170

Hair:

Brown

Eyes:

Brown

Hometown:

Antioch, Tennessee (USA)
Lady Amazon's Profile...
How It Started:

I was always a big fan and loved wrestling for as long as I can remember. Tojo Yamamoto helped me get started. He was a wonderful man who I miss very much. I am now doing mostly manager work and conventions.

Gimmick:

Lady Amazon...because I am six feet tall and tend to wear a lot of leopard print. When I started I was just called "Amazon", but I am always a "Lady" so it just kind of fell into place. SUPPORT YOUR LOCAL AMAZONS!

Outfit/Costume:

Mostly black or leopard print with a leopard print cowboy hat. Black boots. I always shoot for sexy...without looking slutty. As a manger now I am a little more conservative, wearing business suits and on occasion an Amazon dress.

Manager Of:

Stro; Demetruis Arion; Mean Mark Manson.

Have Managed:

Tim White "The Rockin Rebel"; Luscious Bobb; Bull Payne; "The Living Doll" Michael Anthony; Larry Zybyzko; Mean Mark Manson; The Heartbreaker; many other Tennessee wrestlers.

Biggest Allies:

Michael Anthony; "The Stro" Rob Kellum; Big Vito; Alexzandra; Maxx Burton; Fantasia; Road Warrior Animal.

Most-Hated Enemies:

Anyone who gets in my way.

Career Highlight:

Having a promoter recognize me and refer to me as "Yamamoto's girl". It was a very high compliment.

Favorite Wrestlers:

Sherri Martel; Scott Hall; Bam Bam Bigelow; Road Warrior Animal; Joe Leduc; Sandman.

Wrestling Ambition:

I want to finish my career as a manager and just have fun with the fans. It's all about them.
Lady Amazon's Personal Notes...
I love any and all types of music.....My favorite color is red.....Scott Hall makes me laugh. Everyone needs that!.....Favorite saying: "To thine own self be true".....My favorite manager of all time is Larry Sharpe. He's also someone who made me want to get into wrestling.
Latest Lady Amazon News...
I have been working for SWF back in Tennessee. Honored to share a ring with the Legend Jackie Fargo. Looking forward to doing some upcoming shows in Missouri for WWCW.
Essential Lady Amazon Links...