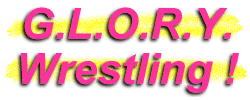 Kristina McGraw
Referee
Although an in-ring injury often derails the career of the typical pro wrestling trainee and causes them to leave the business, it didn't for tough Kristina McGraw. Instead, Kristina simply altered her goal slightly and focused on training to become the best referee possible! Now wearing her stripes for over half a decade, Ref McGraw is fast-becoming one of the most popular referees--male or female--on the West Coast.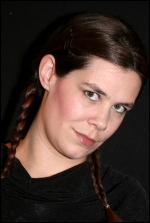 Don't be fooled by the "little-girl" braids. Kristina McGraw is tough and knows how to keep order in the ring!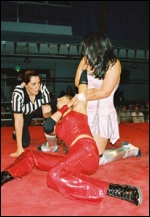 McGraw gets down close to the action to make sure nothing illegal is going on.
Ref McGraw can hold her own in the ring even when officiating matches between the big men.
Without her stripes, Kristina McGraw looks closer to magazine fashion model than wrestling referee!
Ref McGraw makes sure that chinlock doesn't turn into an illegal choke.
Kristina raises the arm of a victorious Jacqueline!
Kristina McGraw's Stats...
Height:

5' 9"

Weight:

160

Hair:

Auburn

Eyes:

Hazel

Hometown:

Redwood City, California (USA)
Kristina McGraw's Profile...
How It Started:

Actually, I had very little knowledge of wrestling before meeting my husband. I started seriously watching wrestling with him in 1997 and quickly became hooked with the physicality and showmanship of the sport. My husband joined APW as a student in September 2001, and in a sense, I joined with him...but in a different capacity. I was at every show, helping out and volunteering any way I could; everything from running the merchandise stand to ringing the bell and keeping time. It wasn't long before I could think about nothing else other than the sport. I wanted to become as immersed in it as possible. My original thought was I would become a manager, so I needed to begin training as a wrestler to get started. I joined the APW "BOOTCAMP" and made it about three months before I became injured. I had to stop my training at that time, but it wasn't long after that (September of 2002) that I decided to begin training as a referee under our Head Referee and Trainer, Max Marquez. I made my professional referee debut at the Cauliflower Alley Club Reunion in April 2003, which was a HUGE honor and a very unexpected surprise!

Biggest Allies:

As a referee I don't have any "storyline" allies. However, I have met many friends through wrestling as a business and it was those people who actually made me want to become a larger part of the sport. I have my trainer and friend Max Marquez to thank for his awesome direction, as well as all the wrestlers I've ever had the pleasure to officiate for and practice with.

Career Highlight:

Officiating for both Cauliflower Alley Reunion shows in 2003 and 2004 have been the highlights thus far. In addition, having had the privilege of working with some of the business' top athletes; men and women from all over the world.

Favorite Wrestlers:

My favorite pros are the friends and wrestlers I work with in wrestling. I have met so many awesome people in indy wrestling!

Wrestling Ambition:

I want to continue in the business as a referee. I hope to one day become experienced enough to perhaps be the first female referee to land a high-exposure official job (WWE or TNA). In addition, I would love to gain exposure by working in other countries.
Kristina McGraw's Personal Notes...
My biggest interests are: My family, namely my awesome husband, wrestling (of course!) and training/working out at the gym.....I love shopping for clothes and shoes (I have a thing for wild and crazy boots!).....I enjoy music and all that goes along with it. I have been in theater since I was very young and I love to sing!....I get into reading historical novels. It helps me escape from the daily routine of my 9-5 job.....I also like to escape into computer games whenever I might find the time.....When I relax in front of the television, my favorite shows are America's Next Top Model (because I love fashion), Will and Grace (because I adore the high drama of the supporting characters Karen and Jack), and Smallville (because the concept of Superman as a teenager is awesome and the writers are unbelievable!).....I would like to finish by saying how blessed I am to have met some of the nicest people in the business and to have built so many wonderful friendships. I adore all of my family and without them my life would not be as joyous as it is. I love my cats, Madeline (all black and fluffy) and Luna (all white and just as fluffy), who are always home to greet us after long road trips.
Latest Kristina McGraw News...
I began working with a new and very exciting promotion called Fog City Wrestling out of San Francisco, California. I'm also working often for BTW (Newark, CA) and PCW (Oroville, CA) as of late.
Essential Kristina McGraw Links...