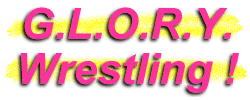 Jade Chung
Manager
One of the most-beautiful managers on the indy wrestling scene, sexy Canadian Jade Chung made her mark in Ring Of Honor and is now quickly showing everyone on the California wrestling circuit why she is that great! While this striking half-Chinese/half-Vietnamese model has been turning heads as she works ringside, Jade's real ambition is to step through the ropes to compete as a wrestler! Currently in training, you can expect to see gorgeous Ms. Chung exchanging holds with other top G.L.O.R.Y. Girls soon. The future looks bright for the talented Jade Chung!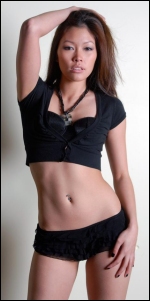 The beautiful Jade Chung!
Lovely Jade designs all of her ringside outfits.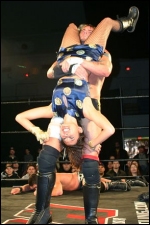 Ms. Chung is not afraid to put herself in danger to help her man.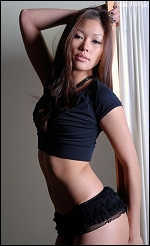 The seductive Jade Chung is half-Chinese and half-Vietnamese.
Jade Chung's Stats...
Height:

5' 6"

Weight:

120

Hair:

Dark Brown

Eyes:

Brown

Hometown:

Guelph, Ontario (CAN)
Jade Chung's Profile...
How It Started:

Like almost everyone who's in the business, I've been a huge wrestling fan since I was a little girl. My whole family would watch it together. I never stopped watching it since. A few friends were in the business and would always ask for my opinion on their match. They told me I had great knowledge and should look into getting trained. I did my first month of training at Fuego's Squared Circle Training and attended indy shows hoping to get booked.

Gimmick:

No steady gimmick. I just go out there with my man and make sure he comes out on top!

Outfit/Costume:

I try to keep the Asian look. I design almost all of my outfits and have them made. Usually nothing too revealing...it keeps the guys interested. Plus, this is wrestling! I'm there to help my man win, not to be some eye candy for drooling perverts!

Manager Of:

"The Professional" Scott Lost and "Magnum" Joey Ryan.

Have Managed:

"The Franchise" Shane Douglas; Frankie Kazarian; Scorpio Sky; The Human Tornado; "Photogenic" Chris Bosh; "The Crown Jewel" Jimmy Rave; AJ Styles; Austin Aries; Roderick Strong; Jack Evans.

Biggest Allies:

The Dynasty (Scott Lost and Joey Ryan).

Most-Hated Enemies:

Everyone! It's all about my man and me.

Career Highlight:

That would definitely be my first match where I managed "The Franchise" Shane Douglas against D-Lo for his Border City Wrestling Heavyweight Title...and won! Anything I do once I walk out there is memorable to me.

Favorite Wrestlers:

John Morrison; Victoria; A.J. Styles; Beth Phoenix.

Wrestling Ambition:

I'm still learning even after four years in the business! I would just like to better myself each time and be able to work with different wrestlers.
Jade Chung's Personal Notes...
I was born and raised in Guelph, Ontario, Canada but I work in the Los Angeles, CA area.....I'm half-Chinese and half-Vietnamese.....I listen to almost all types of music, but no country...sorry!.....I was an extra in Ashanti's "Rain On Me" music video.....I've been modeling since I was 12 years old and have appeared in a few fashion magazines.....My greatest highlight in modeling would be traveling to Vietnam to model and at the same time, being able to visit my family.....I love to shop! What girl doesn't?!....My favorite colors are hot pink, green and charcoal.....My favorite sports are basketball, volleyball and football.....I won the Female Athlete of the Year twice.....I'm a huge movie-buff. I used to go to the movies every weekend before my wrestling schedule became hectic. Some of my favorite movies are The Breakfast Club, Sixteen Candles, The Rock Star, Old School, Anchorman and Dumb and Dumber.....Some of my favorite TV shows are The Office, Lost, Gossip Girl and Scrubs.....Wrestling is what keeps me sane. I love it!
Essential Jade Chung Links...