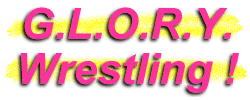 Crystal Clear
Manager
At 5' 10", it's crystal clear that this North Carolina-based manager's most striking feature is her long, lovely legs...an attribute that Crystal Clear uses to her great advantage when it comes to distracting her men's opponents! But this sexy blonde manager's days at ringside may be coming to an end. Don't fret though, because the leggy Ms. Clear is currently training to become a wrestler! Will we be seeing Crystal Clear using those legs in the ring sometime soon?
Cocky businesswoman and manager, Crysatl Clear.
5' 10"...and most of that is obviously made up of long, sexy legs!
Crystal with her main man, Alex Adonis.
Crystal isn't afraid to get her hands dirty!
Crystal Clear's Stats...
Height:

5' 10"

Weight:

125

Hair:

Blonde

Eyes:

Green

Hometown:

Creedmoor, North Carolina (USA)
Crystal Clear's Profile...
How It Started:

My best friend at the time got me into the indy shows around our area. And after attending some of them, I fell in love with pro wrestling. It was then that I decided it was something I would love doing.

Gimmick:

I'm a cocky, hair-flipping, businesswoman. I'm there to get the job done right, and I keep my boys in line.

Outfit/Costume:

Leather pants; business-looking shorts; sparkly bras; tied-up white shirts.

Manager Of:

Alex Adonis; Dwayne Allen "The Assassin"; FATBACK Enterprise (Corey Edsel, Donny Dollar$ and Nick Richards).

Have Managed:

Wallabee Joe.

Biggest Allies:

Kassie Karnage.

Most-Hated Enemies:

LOD.

Career Highlight:

Working the ACW show for over 300 hundred people was amazing. For an indy show, that's a ton of people.

Favorite Wrestlers:

Alex Adonis; Randy Orton; Ric Converse; Amber Oneal; Krissy Vaine.

Wrestling Ambition:

I am in the process of finishing up training and can't wait to start wrestling! If I made it to the WWE that would be great. But if not, the indies are always fun.
Crystal Clear's Personal Notes...
I love the outdoors! In fact, I'm going to school to get my degree in Parks, Recreation and Tourism Management.....I love to be at the beach.....I'm from the country, so I love Nascar and country music.....I'm a huge Duke basketball fan.....I can't cook!.....Green olive and bacon pizza is my favorite.
Essential Crystal Clear Links...