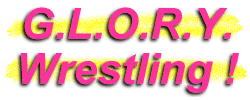 Cherry Payne
Manager
Fiery, red-haired Cherry Payne has been causing havoc around New England rings since the early days of her career...and it doesn't look like she's going to stop anytime soon. Calling Boston home, Ms. Payne is now working to bring her unique and sexy brand of managerial mayhem to arena's across the country!
Dangerous Cherry Payne!
Even away from the ring, Cherry Payne is a sexy sight.
Don't let this ditzy act fool you...Cherry Payne knows EXACTLY what she's doing around the wrestling ring!
Ms. Payne joins fellow G.L.O.R.Y. Girls Eve and Ariel after the show.
Cherry Payne's Stats...
Height:

5' 4"

Weight:

135

Hair:

Red

Eyes:

Brown

Hometown:

Boston, Massachusetts (USA)
Cherry Payne's Profile...
How It Started:

I liked watching wrestling on TV and going to indy shows. I decided that I wanted to get involved in all the excitement so I joined the Chaotic Training Center.

Gimmick:

Big business.

Outfit/Costume:

All business.

Manager Of:

Brian Milonas; Max Bauer; "Golden Greek" Alex Arion.

Have Managed:

Archibald Kincaid.

Biggest Allies:

Brian Milonas; Max Bauer; "Golden Greek" Alex Arion; Omega Security.

Most-Hated Enemies:

Nikki Roxx; The Logan Brothers.

Career Highlight:

Getting smooched by John Cena at the 2007 Homecoming show!

Favorite Wrestlers:

Eddie Guerrero; Lita; Sensational Sherry.
Cherry Payne's Personal Notes...
I was born in Boston and grew up with this lovely accent: no "R's"!.....I moved around a lot as a child. Mom was a gypsy. She brought us (me and my sisters) to wrestling shows, old badly-dubbed karate movies in the "Combat Zone", Chinatown, Chinese New Year, traveling carnivals, etc. We were always at the beach.....While my sisters were watching the likes of Julia Roberts fall in love on screen, I couldn't get enough of Jackie Chan, Steven Segal, Jean Claude Van Damme, Jet Li and anyone else that moved, kicked, jumped and made something happen. It was only a matter of time before I got involved with wrestling!.....Other than wrestling and Martial Arts, I like to draw and watch animation. Violent animes are my particular favorites. Ninja Scroll, Ghost In The Shell and Kite are in my collection.....I have a pet cat: a solid black Christmas gift from Mom which I aptly named "Coal". I wish he was a dog, but he thinks he's one anyway.....I love all kinds of music except country. You can find me listening to Aerosmith, Sade, Harry Connick Jr., AC/DC, Linkin Park, Portishead, 80's music...anything but country!.....I am a very laid-back person. I may seem quiet, but I am always observing. I am very easy to talk to, so if you ever see me at a show donít be afraid to stop and say "hello"!
Latest Cherry Payne News...
Please visit my web page to see upcoming dates.
Essential Cherry Payne Links...