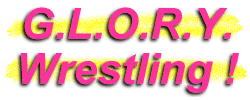 Liz Savage
Manager
In wrestling the most important thing is the belt. Time and time again, Liz Savage has proven herself to be one of the most sought after managers in the North East. She has brought many to the gold they work so hard to get their hands on...and makes sure they keep it when they do!
Sexy Liz Savage is working her way up the managerial ranks while she trains to participate more actively in the ring.
Liz is nothing but business in the ring.
Liz and her main man, Brian Anthony.
Liz Savage's Stats...
Height:

5' 2"

Weight:

115

Hair:

Light brown

Eyes:

Hazel

Hometown:

New York City, New York (USA)
Liz Savage's Profile...
How It Started:

When I was a kid, I always said when I grew up I would be a wrestler. I have been a wrestling fan as long as I can remember. In 2002, I got involved in a calender shoot for the now defunct

No Holds Barred Wrestling Radio Show

and started doing appearances with them. The hosts started telling me about all the indy feds in the area, so I started to research them...and the rest is history!

Gimmick:

I am "The Manager of Champions" because everyone I manage gets a belt sooner or later! I am not your typical manager. I am not a 5th ring post. I take after the old school managers of the 80's and 90's who cared about their wrestlers and put their all into making sure they won!

Outfit/Costume:

It varies based on who I manage...as with keen fashion sense such as mine I could not possibly wear attire that would clash with that of those I work with.

Manager Of:

Franciz and The Krotch Stomp Kings (AWESOME). Currently seeking new talent to represent and mold into champions.

Have Managed:

Brian Anthony (CCW North East Champion, MXW, AWA/WSW, WUW, CWF, NEP); Cindy Rogers (CCW/UWC); Max Gaeta and Philly Madison w/Joe Rules (UWC); Reckless Youth (UWC Champion); Don Montoya (UWC); Taylor Nicole (JRW, UWC); Alexa Thatcher (JWA-United); Della Morte (RCW); Nocturne (SAW Cruiserweight Champion); Scotty Vegas (SAW); Ethan De Sade (TMPW, GWF, XXX Champion/Heavywieght Champion); Cenobite w/ Della Morte (RCW); Joey Bricco (MXW).

Biggest Allies:

Whomever pays me to most to represent them: Joe Rules, Taylor Nicole Rules, Franciz, KSK, amongst others.

Most-Hated Enemies:

Anyone who gets in my way!

Career Highlight:

Working the DWOW comeback show in front of almost 1,000 people for the Vacant Tag Championships (we lost to those cheating Maes!). Helping Brian Anthony obtain the CCW North East title.

Favorite Wrestlers:

Rowdy Roddy Piper; Mickey James; Victoria; Randy Savage; Jimmy Hart; too many others to list!

Wrestling Ambition:

Two words: World Domination!
Liz Savage's Personal Notes...
With interests from reading to rock climbing, heavy metal music to classical, you never know where I may be or what I may be doing next.....In my spare time I hike, camp, go see live music and read.....I am active in environmental activism, specifically water conservation.
Essential Liz Savage Links...