Picture Of The Day for May 31, 2009
Tasting Her Own Medicine
We can't count the number of past PODs we've had here on G.L.O.R.Y. Wrestling featuring Camron Star--the self-proclamed "most awesome wrestler alive"--stomping, kicking, choking, gouging and otherwise causing havoc in the ring. We've even seen Star take a baseball bat to some unfortunate opponents!
Well, the tables were turned this past Thursday night when Ms. Star participated in a four-way intergender tag team match. It seemed that everybody wanted a piece of the the cocky grappler. Early on, Camron was able to gain an advantage over opponent Harley with this bridging hammerlock (above). But then it seemed to turn into a contest of "who can hurt Camron Star the most" as the rest of the wrestlers competed to see who could cause more damage to the blonde heel. That huge guy choking Ms. Star against the bottom turnbuckle is named Tony Dreamer [Picture #2]. And from the looks of it, he wasn't going to let go of Camron's throat anytime soon. Even after the referee was able to back Dreamer away, his partner Harley took over where he left off as she attacked from the ring apron, once again giving Star's windpipe a thorough going over [ #3].
We normally would berate wrestlers such as Dreamer and Harley for using these lousy tactics. But considering the things that Camron Star has done to opponents in the past, we can't really get too upset about it. After all, Camron Star is just simply getting a taste of her own medicine!
Photo:
Marcus A. Fine
Bonus POD!
Picture #2
Bonus POD!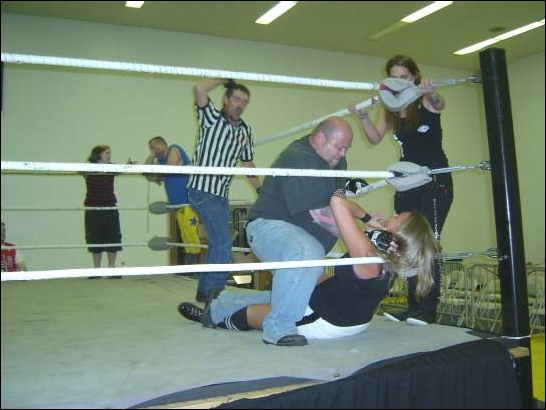 Photo:
Marcus A. Fine
Bonus POD!
Picture #3
Bonus POD!
Photo:
Marcus A. Fine