Picture Of The Day for May 27, 2009
Tied In Knots
Although they're not currently on the G.L.O.R.Y. roster, both MsChif and Nevaeh are wrestlers who are well-known to G.L.O.R.Y. fans for their work across the the rings of the Midwest. The two ladies met this past weekend as they went to war for Velocity Impact Pro Wrestling in Evansville, Indiana. Photographer Brian Gaddis was ringside to snap the wrestling action...but as he was looking through the lens of his camera he may have thought he was at the auditorium next door where the Boy Scouts were hosting a knot-tying demonstration! MsChif had Nevaeh suffering mightily as she twisted, contorted and immobilized the blonde while on her feet and down on the mat.
Above, MsChif has Nevaeh locked in a standing position as she tortures her left knee and leg. And MsChif seems to be enjoying it. Is that a smile we see starting to form on the violent brunette's face? Still on their feet, the pain moves to Nevaeh's upper body as she's immobilized once again [Picture #2]. Arms stretched, elbows locked and her body bent forward, it's got to be hard for the blonde to breathe in this position.
Although the conflict eventually made its way down to the mat, MsChif's strategy remained the same. Nevaeh's screams of agony rang through the arena as her arms were bent into an awkward angle [ #3]. The strain on the blonde's muscular arms is intense as she fights against having any permanent damage done to her shoulders.
All that abuse took its toll and Nevaeh soon fell victim to a nasty MsChif rear chinlock which quickly turned into a rather obvious choke [ #4].
We won't blame Nevaeh if she has trouble putting on her boots before her next match. Tying up those laces is certain to bring back some bad memories!
Photo:
Brian Gaddis
Bonus POD!
Picture #2
Bonus POD!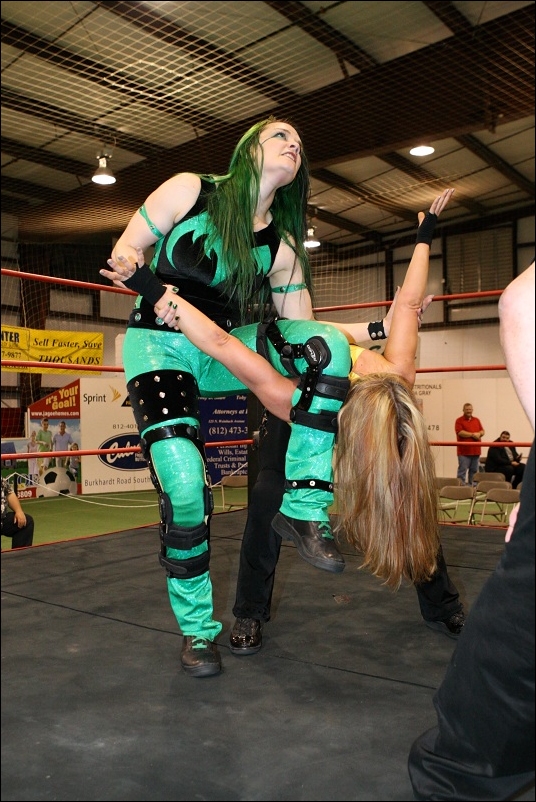 Photo:
Brian Gaddis
Bonus POD!
Picture #3
Bonus POD!
Photo:
Brian Gaddis
Bonus POD!
Picture #4
Bonus POD!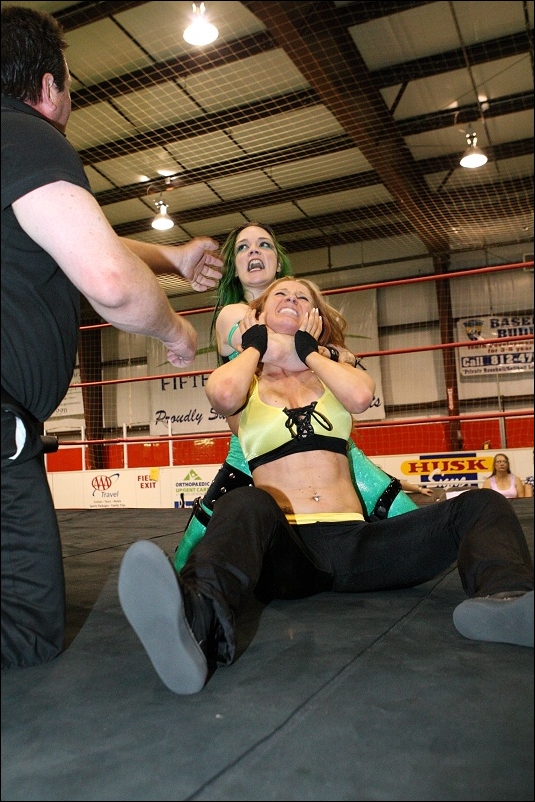 Photo:
Brian Gaddis