Picture Of The Day for May 16, 2009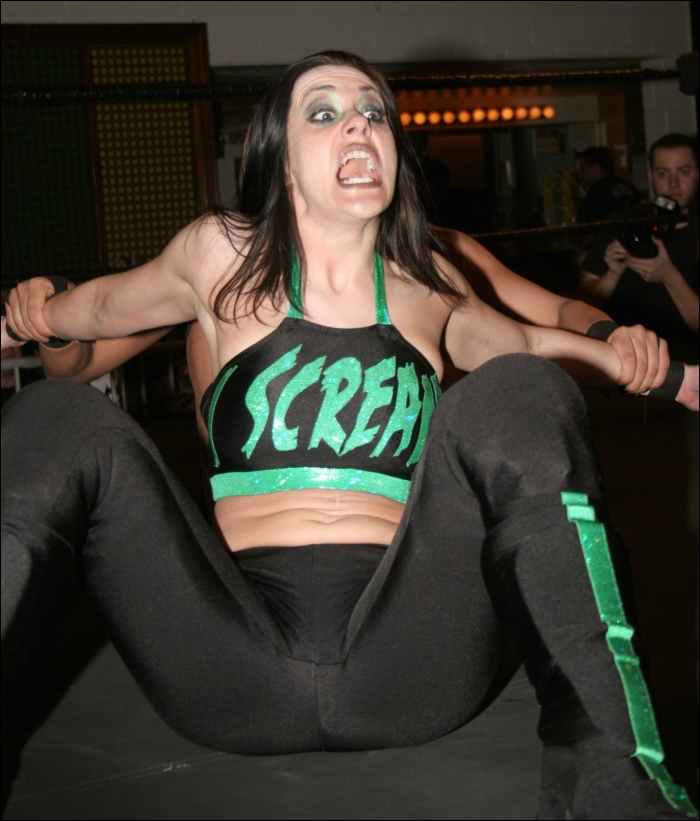 I Scream, You Scream, We All Scream For...
No, there isn't any ice cream involved in today's POD. But there is plenty of screaming...thanks to G.L.O.R.Y. Girl Daffney and the lady behind her who is causing the ear-shattering decibels. Yes, there is a lady behind Daffney and she is responsible for the brunette's discomfort. Who is it? Some of you may know her: it's Melanie Cruise (#2). She's not a G.L.O.R.Y. Girl. Yet. But we'll be taking care of that unfortunate detail within the next 24 hours.
Watch for Melanie Cruise's G.L.O.R.Y. Wrestling debut soon!
Photo:
Wrestlin' Wally
Bonus POD!
Picture #2
Bonus POD!
Photo:
Wrestlin' Wally
30,671,714
Visitors to this page.
"Action is a great restorer and builder of confidence. Inaction is not only the result, but also the cause of fear. Perhaps the action you take will be successful; perhaps different action or adjustments will have to follow. But any action is better than no action at all." -- Norman Vincent Peale
Quick Links
Top Of Page | Home | The G.L.O.R.Y. Girls | POD · LOD · VOW | Hot 100 | Message Board