Picture Of The Day for May 22, 2009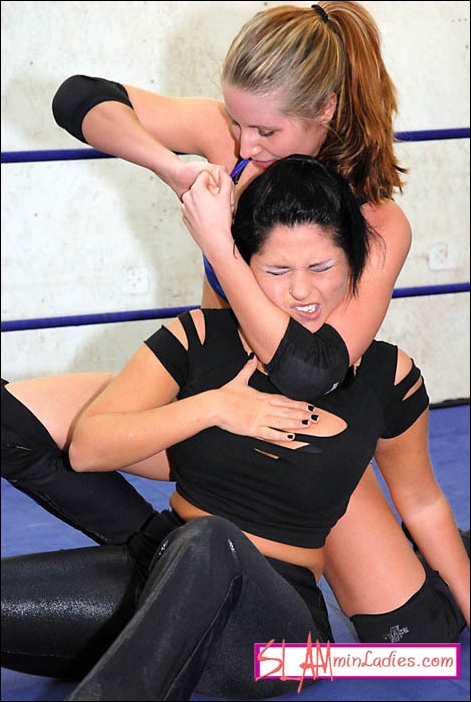 Maybe It's In The DNA...
Yesterday we watched as Amber O'Neal did her best to do damage to Australian wrestler Tenille during a match-up they had earlier this month. We credited Amber with being kind of vicious during that match with all her kicking, stomping, choking and other various means of mayhem. But after seeing these pictures of Lacey taking on fellow G.L.O.R.Y. Girl Becky Bayless at the SLAMminLadies facility, we're thinking that maybe it's more of a behavioral thing. You know...something actually buried deep in the DNA of blondes that makes them snap and go bonkers when they look across the ring and see a brunette in the opposite corner.
Today, Lacey seems intent on not only defeating the dark-haired Bayless but also in messing up her pretty face. Look at how Lacey is working that chinlock on Becky: she's actually trying to squeeze and squish the brunette's face into a different shape than what it was before she entered the ring!
And as the match progressed, things got even more out of hand when Lacey simply decided that it would be easier to disfigure her opponent's gorgeous facial features by grabbing a handful of hair and battering her with a series of vicious right hands [Picture #2]. Talk about blonde on brunette violence! We hope the referee got in there quickly, because it looks like Lacey wasn't about to stop firing those fists into Becky's face anytime soon!
So what do you think? Is it a behavioral thing? A societal issue? Or is there just something in the DNA of those brutal blondes that drives them to mess up their brunette rivals?!
Photo:
SLAMminLadies.com
Bonus POD!
Picture #2
Bonus POD!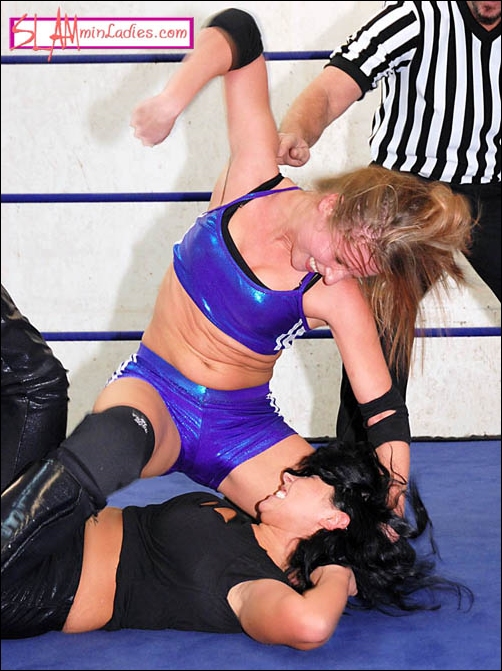 Photo:
SLAMinLadies.com