Picture Of The Day for March 3, 2009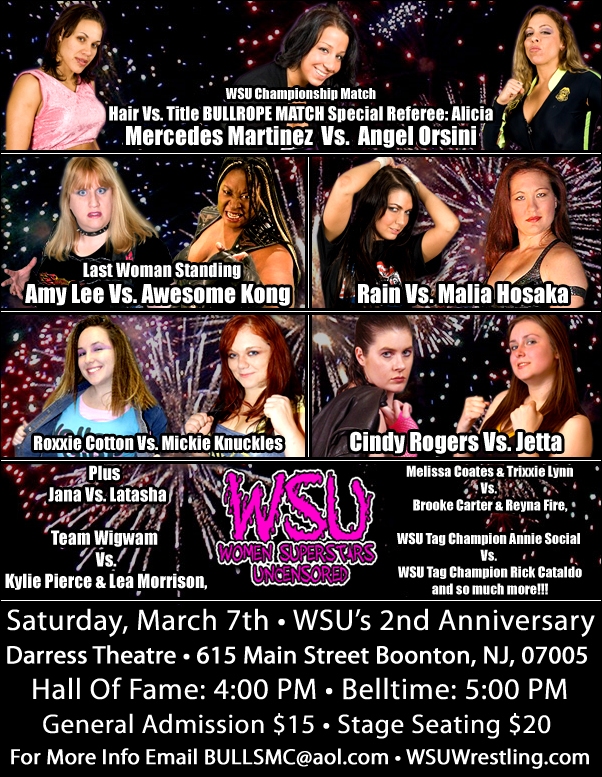 WSU 2nd Anniversary Blast!
This Saturday brings what certainly will be the biggest event in the two year history of Women's Superstar's Uncensored when the federation's veterans join former and current TNT/ECW stars for the much-anticipated WSU 2nd Anniversary Extravaganza. The show's expansive and exciting line-up is apparent from even the quickest of glances...
Awesome Kong vs. AmyLee! Are you kidding? Two of the most-powerful women on today's wrestling scene going head-to-head until only one is left standing! We hope this is the last match scheduled for the event, because there may not be a ring--or a theater--left standing after these two are through with each other!
Roxie Cotton vs. Mickie Knuckles! Two women who are each more than willing to absorb unbelievable amounts of punishment. Want proof? Mickie and Roxie fought it out hardcore-style during 2007's IWA Mid-South Queen Of The Death Match Tournament which included ladders, barbwire and more. At one point in the brawl, Cotton and Knuckles were sitting face-to-face at ringside exchanging taped fist punches to the head. Oh...did we forget to mention that there was broken glass embedded in those taped fists? You can actually see the bloody and brutal highlights on this YouTube video. BUT BE FOREWARNED: THE VIDEO IS GRAPHIC, VIOLENT AND BLOODY. WATCH IT AT YOUR OWN RISK!
Cindy Rogers vs. Jetta! Cindy was out of action with an injury for much of 2008. This weekend will mark her return to the ring as she takes on UK star Jetta. Both ladies are strong, skilled wrestlers and this match has "technical masterpiece" written all over it.
Angel "Riptide" Orsini vs. Mercedes Martinez with special guest referee Alicia! A bullrope match between these two talented wrestlers as they decide who the definitive champion of WSU will be. Throwing Alicia into the mix as a guest referee just makes things even more unpredictable. The recently-retired blonde is still a WSU fan favorite and she's had a history with both of these ladies. Can she call it straight down the middle? Does she have any old scores to settle? Is it possible that Alicia will actually get physically involved in the battle? You'll have to be there to find out!
And that's just the tip of the iceberg of what you might see this Saturday. It all starts at 4:00pm at Boonton, New Jersey's Darress Theater. Be there for what is sure to be an historic WSU event!