Picture Of The Day for September 28, 2008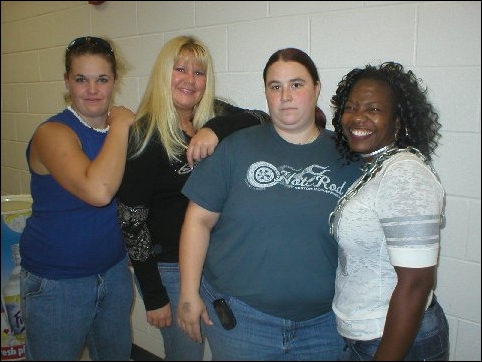 G.L.O.R.Y. Girls & Friends: Just Hangin'...
Before a recent North Carolina wrestling event, G.L.O.R.Y. Girls Fantasia (2nd from left) and Eva Destruction (2nd from right) posed for some backstage shots with fellow wrestlers Sammy Jo (left) and Diva Michelle Dannings (right). Later, Fantasia (below) dons some pink and black...looking quite stunning before she heads to the ring to do battle!
Bonus POD!
Picture #2
Bonus POD!
Bonus POD!
Picture #3
Bonus POD!
27,794,458
Visitors to this page.
"
A lesson in looking for the good in any situation...
While New Yorkers poured out of immobile subway cars, emerged from stuck elevators, began long walks home or rested in local establishments during the Great Blackout of 2003, one unidentified man saw beauty.
"You can actually see the stars in New York City," he said.
" -- Associated Press
Quick Links
Top Of Page | Home | The G.L.O.R.Y. Girls | POD · LOD · VOW | News | Hot 100 | Message Board | Submit Info