Picture Of The Day for June 3, 2008
Canadian G.L.O.R.Y. Girl Warfare!
Today's guest POD comes to us courtesy of The Family Id: Gordo on commentary and Mrs. Id behind the camera capturing the action. Enjoy!
Ontario rookie sensation "Girl Dynamite", Jen Blake, faced her toughest challenge to date when she met the legendary "Hardcore Anime Superhero", LuFisto, in Hamilton, Ontario Saturday Night (May 31st) at Living Legends Wrestling EXODUS.

The match was billed "No Disqualifications, No Count-outs" and many fans thought Jen was going to be easy pickings for LuFisto. When LuFisto attacked and pummelled local woman wrestler Mercy before the show even started as--"an example of what I'm going to do to Jen Blake"--fans were even more sure that Girl Dynamite was in for a tough night...and they weren't too far off!

Jen was cautious to start and LuFisto wasted little time in using her experience and power advantage to keep Jen on the defensive. LuFisto even played psychological games with her opponent, cruelly rubbing her face into the canvas while mocking her abilities.

Jen began firing back with short elbows and punches...but every time she seemed on the verge of seizing control, LuFisto would counter with a move from her extensive arsenal of tactics. Jen was subjected to brutal kicks, LuFisto's feared running facewash series and a camel clutch made even more torturous by LuFisto raining forearm blows to Jen's unprotected face and chest.

Eventually the fight spilled out through the ropes and Jen took control during the wild brawl at ringside. The battle got so intense that the ladies crossed the metal barricades and almost 300 fans were scurrying for cover as LuFisto and Jen took their war to the far corners of the Fight Factory arena!

Both ladies were hurting when the action returned to the ring...
Scroll down for more great Mrs. Id action shots. And don't forget to check out tomorrow's POD for the conclusion of this fantastic match!
Photo:
Mrs. Id
Bonus POD!
Picture #2
Bonus POD!
Photo:
Mrs. Id
Bonus POD!
Picture #3
Bonus POD!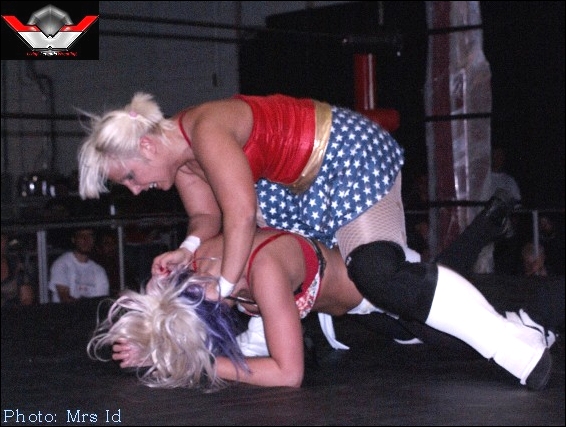 Photo:
Mrs. Id
Bonus POD!
Picture #4
Bonus POD!
Photo:
Mrs. Id
Bonus POD!
Picture #5
Bonus POD!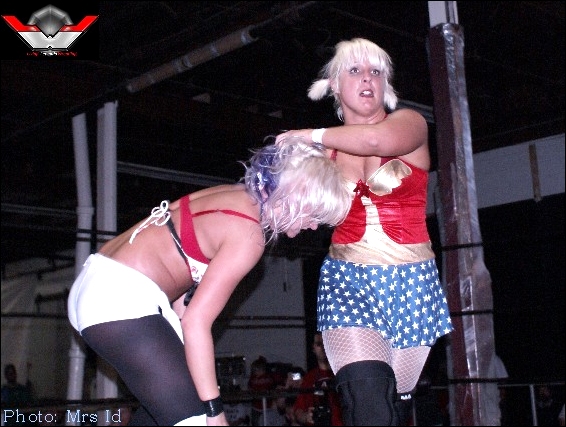 Photo:
Mrs. Id