Picture Of The Day for April 5, 2008
Josie's DCW Celebration
G.L.O.R.Y. Girl Josie celebrated at a recent Derby City Wrestling show when the team she manages, The Mobile Homers, won their tag match. No doubt Josie is also celebrating the fact that she's wearing that sparkling OVW Women's Championship belt around her lovely waist!
Bonus POD!
Picture #2
Bonus POD!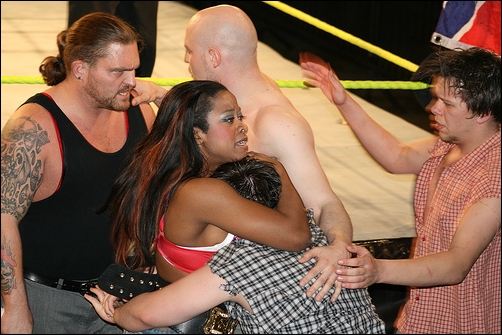 28,199,814
Visitors to this page.
"
A lesson in looking for the good in any situation...
While New Yorkers poured out of immobile subway cars, emerged from stuck elevators, began long walks home or rested in local establishments during the Great Blackout of 2003, one unidentified man saw beauty.
"You can actually see the stars in New York City," he said.
" -- Associated Press
Quick Links
Top Of Page | Home | The G.L.O.R.Y. Girls | POD · LOD · VOW | News | Hot 100 | Message Board | Submit Info