Picture Of The Day for February 16, 2008
The Beautiful Miss Michelle!
Talk about a "can't miss" Picture Of The Day!
Today we bring you the gorgeous Miss Michelle on the beach...looking fantastic in that amazing pink bikini. How can you beat that???
Well...believe it or not...we're going to try! How about this: Miss Michelle, another sexy bikini and a hot car?! Check out the picture below if you don't believe us!
After that, head over to Miss Michelle's newly-updated profile. The G.L.O.R.Y. Manager gets the new format treatment, new info, new pictures and a Miss Michelle Photo Gallery!
Bonus POD!
Picture #2
Bonus POD!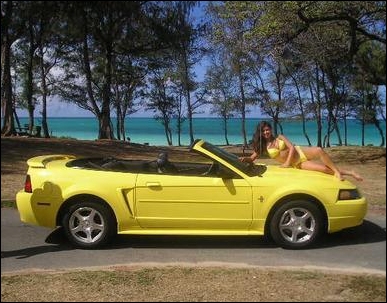 25,509,458
Visitors to this page.
"
A lesson in looking for the good in any situation...
While New Yorkers poured out of immobile subway cars, emerged from stuck elevators, began long walks home or rested in local establishments during the Great Blackout of 2003, one unidentified man saw beauty.
"You can actually see the stars in New York City," he said.
" -- Associated Press
Quick Links
Top Of Page | Home | The G.L.O.R.Y. Girls | POD · LOD · VOW | News | Hot 100 | Message Board | Submit Info