Picture Of The Day for August 11, 2007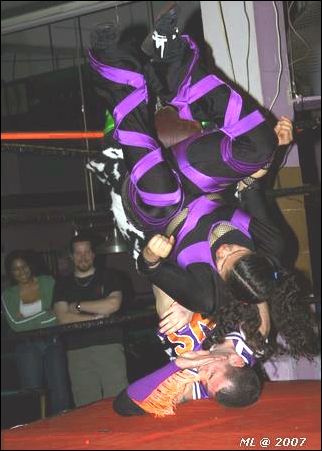 CANNONBALL!
Remember doing the ol' cannonball off the diving board in the backyard pool? That's still a favorite dive for many of us when pooling-it during the hot summer months. It sure seems like it's still a favorite of Vanessa Kraven. She likes nothing better than trapping an opponent in the corner and then laying into them with a cannonball...in this case, she connects with a cannonball flip while this poor guy is still hung upside down from the corner ropes. And at 6' 0", 195 pounds, Vanessa is certainly a devastating cannonball!
You'll want to check out Vanessa Kraven's G.L.O.R.Y. Profile when she debuts on the site a little later today.