April Hunter In Japan (May 2005)
"Fifth Visit and Happy To Be Back!"
Day 1 (and part of 2): I love a stimulating 18 hour flight. Not. Can one survive on beef jerky, instant cappuccino and oatmeal cereal bars? I certainly hope so, because my suitcase is filled to the brim with 'em.
Day 2: Sumie Sakai met us at the airport. When I casually asked her what she missed most about America, she replied without hesitation, "Dunkin Donuts".
After searching down a lot of narrow one-way streets for a long time, we finally found the Weekly Mansion in Shinjuku. It's funny how the Japanese (miss) use the words "mansion" for a single room efficiency or "limousine" for an airport shuttle.
After checking into our teeny mansion, Slyck Wagner Brown and I decided to see what was around us. Shinjuku was hopping and the city (plus a few cups of coffee) soon woke us up. We found three of maybe eight magazines SWB was in that would come out while we were there, which understandably thrilled him considering I don't think he's been printed more than eight times in his entire wrestling career. Too often in America, you have to be friendly with an editor to get any press; but in Japan, they seem to appreciate athletics, talent and simply tend to cover ALL pro wrestling news in a less biased way.
After walking around for a while, we headed to the "yakiniku" (Korean BBQ) where I almost fell asleep in a plate of tongue.
Day 3: The toilet seats here are electrically heated, which rock. Why do we, the (self proclaimed) greatest country in the world, not have heated toilet seats? Why freeze our tushy's off when we can be warm? I'm telling ya, you are RUINED after the Heated Experience. It's hard to go back to a freezing cold seat again.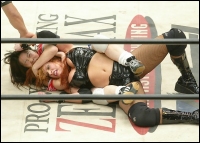 KFC is wicked overpriced here. Well, most things are, but $10 for one (small!) meal...at least they have pictures (shashin) on their menu you can dumbly point to or order by number. After looking around, I found a cheap beef bowl with rice and green tea for about $5.50 and ended up living there.
It's nearly impossible to find a shirt with Japanese writing on it because right now nearly everything that's considered cool is written in English. Or "Engrish"--which is English that doesn't make any sense, but no one knows (or cares). Japanese fashion magazines have bizarre "Engrish" names like Fresh Crème, Dirt Cool, Swing, Ogg and Cutie.
That night we all went to check out a DDT show, which featured a cool mixed tag match of three women vs. two men. Mixed tags are becoming more popular in Japan--something rarely done before.
It's common to see other wrestlers watching shows on their days off since there are up to five shows a day in the Tokyo area alone and one can really learn a lot by watching.
Hip hop has finally hit Japan and now the image of what's considered beautiful has expanded to include their latest obsession, Beyonce'. Hmmm...I can only speculate that Asian girls with a$$es may be coming soon.
People kept walking up to Slyck and saying, "You look like NFL." A player, I think they meant. For me, they just kept staring at my boobs.
Post show, we went to their version of Denny's after the show with friends...no waffles or Grand Slams on this menu, that's for sure. Got in around 1:30am, and passed several businessmen still walking home from work. Tokyo doesn't sleep. Neither does poor Sumie, who's constantly dealing with phone calls and stressed about running her show.
Day 4: Everyone went to Salvares clinic for a pre-show back cracking session. Afterwards, we headed to Korakuen Hall for our first Zero One MAX show. Slyck, me & King Adamo vs. Sumie, Eddie Edwards & Fugita. I was surprised how vocal the crowd was when we came out since I'd never worked a male promotion before and it was Slyck's first time in this country.
King Adamo has one of the funniest characters I've ever seen and it was hard not to laugh in the ring. I wasn't the only one who appreciated him; the fans seemed to love him. After a hard, long, HOT (their lights are brutal) match, our team scored the win when Adamo and Slyck cleared Fugita and Eddie from the ring so I could nail Sakai with a top rope German suplex, followed by the Headhunter.
(Before I forget, I have some Blair Witch camcorder copies of the matches, but if anyone finds the REAL tapes of 4/14 or 4/18 Zero One and 4/17 We Love Sabu, will you let me know? I'd like to get the pro versions.)
After the show, I hung out a little bit with Sara Del Ray (my former roommate at A to Z), Nattie Neidhart and Amazing Kong. While we were standing around and chatting, little Japanese females kept coming up to grab my boobs and giggle, and it was tripping Nattie and Kong out. (Sara was used to it.)
I never noticed this before--probably because I worked all women's federations before--but Japanese wrestling pulls in a very quality female fan. I don't think I've ever seen better looking wrestling fans anywhere.
(I'd like to give a shout out to Hajime for being such a rocking fan, too!)
Day 5: Ah, gotta black eye, which sure didn't take long. Fortunately, it's on my eyelid, so easily hidden and no biggie. Today was a Sumo convention but I begged off and went back to sleep. Jet lag was kicking my ass.
I'm finding it hard not to spend too much money here because it doesn't seem like REAL money to me. And they have all these coins...you find that you don't think much about dropping a 500Y coin in a machine, but if I had to put $5 in a machine, I'd think twice. By the way, finding a Diet Coke is nearly impossible in Japan. It's such an American thing to do, isn't it? Order a cheeseburger and DIET coke.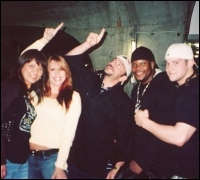 I'd finally gotten smart purchased some eggs (six), butter, one yogurt, a small packet of cheese and three bananas, which came to the grand total of $17! But it was still cheaper than eating out. I hit the 100 Yen store for a wok and spatula and was ready to cook. If you're going to Japan, I highly recommend going to the 100 Yen store. It's like our Dollar stores, but much better quality and range of things and everyone shops there. My friends and family put in requests early for the fuzzy, terry cloth toilet seat covers so don't forget to snag some for the females in your life.
Day 6: Lunch with Kazuki and then off for some training at the J'd dojo where I saw friends Ran Maru and Mariko Yoshida before they left for their show.
This was written on a Japanese wrestling site and I thought it interesting enough to add here, as the theory explains a lot about the ups and downs of women's wrestling. The question posed was 'where are the Japanese wrestling "divas"?'
Answer: "You will find some as most MMA and some wrestling feds have ring girls. Of course Hustle has their "divas" since they are basically WWE-E(ast). However, overall you will find a lack of the same type of "diva" in Japan as in WWE or other USA feds. This is a cultural thing.
In the USA (I am American, born and raised), pornography, strip clubs, "dirty" entertainment, even mellow things like Playboy and the Sports Illustrated Swimsuit Edition are frowned upon. This is due the Judeo-Christian morals that the country was founded upon (I am also a Christian).
Because of this, and this is only my opinion, we American men look for ways to fuel our sexual desires in acceptable ways. If the scantily clad women or provocative dancing are a part of a sporting or sports entertainment event, it is acceptable. If we are at a gentleman's club or porno store, this is unacceptable. We take what we can get in ways that will make us less "sinful", either to our religion or our peers and loved ones.
"It's just wrestling" is a common way of justifying the raunchy pillow fights on WWE broadcasts. The excessive T&A is okay because it is sports. Our wives will complain about it but ultimately "its just sports" is the thing that gets us off... the hook.
Now, in Japan, whose culture is not tied to the same "moral" background as the USA, has an entirely different view on sex. It is not an unethical or bad view, nor is it even "more liberal", it is just different. I am not an expert on the history of Japan, nor its religious heritage, but for the most part it is a secular society not guided by the calling of a higher power. The views on marriage, sex, etc. are completely different than those in the USA. To look at a naked woman is not "a sin". I know that some mainstream publications have naked women in them. Because of this, men in Japan are okay to look at as many naked women as they want and do not need to hide it.
Therefore, when wrestling is on, they want to see wrestling. When fighting is on, they want to watch fighting. They do not need to live in this world of kayfabed voyeurism. Porn is porn and wrestling is wrestling and the two do not need to mix to make the viewer less of a creepy old man.
This is why Joshi Puroresu has been successful and why women's wrestling in the USA will never be. People in the USA want catfights and nudity and if it doesn't deliver that, people will tune out. I hope I am accurate here and that I helped a little.- BattleMan"
Day 7: The big day, the reason we came to Japan, the We Love Sabu show! We had to pack extra because we weren't going to come back home tonight. After two shows today, we'd stay over near Differ Araki and head to Nagoya (about six hours away) with Zero One in the morning.
I was hoping after the show, Sumie might be less stressed and be able to remove her phone, which had now become semi-permanently attached to her ear.
We rode to the show with Fumie and Haru, who had a lot of precious cargo on board...like Mick Foley's donated Mankind outfit (sweeeeeeet) and Socko, and Terry Funk's letter to Sabu.
On a side note, it floored me to see how organized the shows were, planned and executed down to the minute with schedules handed to everyone as to what was happening and when. I knew according to the sheet, at 1:20 and 7:10 I'd be up for my matches. Everything ran smoothly, everyone was on time and fans were happy.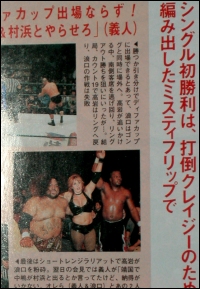 It seems everyone donated something important and the fans were lined up early outside for the day show. The turnout for the show was amazing behind the curtain, too...it was a who's who of Japanese wrestling and MMA. I was surprised, because I wondered how so many contracted wrestlers were able to be on this show...
(In Japan, the majors are (in order): New Japan, Noah (compare to WWE) and All Japan (compare to TNA). Then you have minors like Zero One Max, Michinoku Pro and Dragon Gate/Toryumoun, (compare to ROH) followed by Indies like DDT (compare to 3PW or JAPW). This show had top name wrestlers from all of the feds.)
Hyabusa showed up in his wheelchair, and it was both admirable and heartbreaking. He stayed in the back.
During the day, I wrestled in an intergender Royal Rumble vs. the Fake Mutoh. He was wickedly funny, imitating the legend himself by wearing women's underwear, having his left knee give out and hitting me with all the Mutoh signatures. I got a few good moves in too, but in the end I went down to the Shining Wizard, which is officially the most abused move in Japan. There were 783 on this show alone.
That evening I managed Slyck as he fought Eddie Edwards (new to the Noah dojo) in what many called the match of the night. The fans seemed to have a hard time with "Slyck" so they opted to chant "Wag-on-er" instead. In the end, he KILLED Eddie with a Hater Breaker off the top.
The show was literally off the hook and I heard they raised some decent money towards Sabu's hospital bills. Thanks to the fans, too, who were amazing!
Exhausted, we skipped out on a late dinner and went straight to the hotel. Sabu and his wife Mibu came by our rooms later to chat and thank us for coming over to do the show. Funny as always, he certainly seems to be making good progress and his lady is taking solid care of him.
Sandman was also in the hotel with us...and lacked subtlety, as usual. The Sandman you know in the ring is the same Sandman you see out of the ring, and sometimes it can be, ah...interesting. In "real life" circumstances--like at a library, grocery store, (or say, hotel lobby) it can be very interesting. (At least until he sobers up.)
Day 8: Nagoya for Zero One Max. It was Sandman, Slyck & I vs. Sumie, Eddie & Kanemura that night...
(To Be Continued...)
---
April Hunter In Japan (May 2005)
"Fifth Visit and Happy To Be Back!" (Part 2)
Day 8: Japan in April is truly beautiful. Their famous cherry blossoms (sakura) are in full bloom and it's awesome. I'd always heard about it, but never got a chance to see it until now; it's kinda their equivalent to autumn in New England. If you're a fan of The Last Samurai, there was a cherry blossom scene in there where the Samurai said to Cruise that "you can spend your whole life searching for the perfect blossom and never find it and it would not be a life wasted." Yeah, I'm a dork.
Tonight was Sandman, Slyck and I vs. Sumie, Eddie and Kanemura that night in Nagoya for Zero One Max.
We met the bus early at the 01 dojo and headed off for the six hour trip west. If you drive in Japan, the tolls are ridiculous. They seem like their every 5 miles and a LOT of money. Gas there is about $4.50 a gallon right now. It's no wonder everyone uses the train instead. Even the wrestling shows start earlier--usually by 6:30--so people have time to catch their trains home, which stop just after midnight. Because there's no other way to get around after that time, the taxis triple their fares. It's not just travel that's costly, but food, too. The average Japanese household spends a quarter of their annual income just on food.
Super Crazy was on the show with us (and very cool) and Eddie was subtly marking out like a little girl. Crazy and Tanaka (thankfully) helped us out a lot, from ordering the food to getting home that night.
Our tag partner, Sandman, was still asleep on the bus until right before our match, which well until the end, when something went wrong and we were defeated. Sandman accidentally caned Slyck and everyone on the other team took wicked advantage of a man down by hitting him with all but the kitchen sink: a moonsault, drop kick and Kanemuras' signature senton bomb for the pin. We weren't happy. But I guess it's nothing a beer can't fix, right?
After the match, Sandman popped a few for all of us, and yelled "chug!" The crowd just looked at him, blankly. He whispered to me, "Aw, &*, I don't know how to say chug in Japanese...do you?" What self respecting half-Irish girl wouldn't? I looked at them and yelled "ichi, ichi, ichi, KAMPAI!" and they started screaming with us. Sandman and Slyck were happy.
The wrestling fans are great in Japan. Different, but great. While in America the fans pop for the big moves alone; the Japanese pop when an opponent KICKS OUT of a big move. There are also no real "heels" or "babyfaces" in Japan...it's based on more of a true back-and-forth competition style or "fighting spirit". They cheer for who they want to cheer for and would never be so disrespectful as to chant "you f'ked up" if an athlete trips or a move doesn't come off. I really enjoy working there and their style of wrestling.
We got back at 4:15am and had to wait until 4:45am for the trains to run again to get home. The name "Nihon" and "Nippon" means "origin of the sun" (hence the white flag with the red circle as the symbol of Japan) and I sure got to see it originate this morning. I finally crawled into bed around 6:30am.
Day 9: Laundry ("Raundry") day. $3 per load to wash and $2 to dry. One of my friends was remarking how "ghetto" Japan is, because they all hang everything out on little compacted colored hanger-things to dry. Yeah, true, but they do have some cool space saving laundry contraption that we don't have yet--another great find at the 100 Yen store. Most people don't have dishwashers or clothes dryers.
Japan is actually a really cool mix of ultra modern and historically ancient and I've never seen anything like it. You can go to some areas and still see old Asian lanterns lining the streets. They've just replaced the candle with a bulb.
They're also fanatical about recycling and not wasting energy. And they've managed to get the message out nationally, something we still can't seem to do. Every single area has three trash areas; plastic, paper and metal. Technically, they're a very small island, yet populated as hell. In most areas, you can't walk down a narrow sidewalk without (literally) being pushed along with the flow of bodies.
I can't even imagine what a Japanese History class must be like for students...we moan over two hundred years of history in the USA; imagine having to know thousands!
Speaking of, we have it easy. School goes until 5:00 or 6:00pm, Monday thru Saturday. The schoolgirls' uniforms were adorable though...classic short plaid skirt with leg warmers.
How do the Japanese figure out how to make a hotel key card work for several weeks when the cards at home shut off every other day, forcing me to repeatedly go down to the front desk at 2:00am and wait for the stoner-in-charge to reset it?
Luckily, I had a somewhat Western style room with a bed off the floor instead of the Eastern style sleeping tatami. Tatami are rectangular mats made of nice smelling straw, which are pleasant enough to lie on, but since Japan is a little buggy, I prefer to be off the floor. Because tatami are always the same size, roughly the space one (Japanese sized) man needs to sleep, most tend to think of a room in terms of how many mats it holds laid down. An average-sized room is 6-jo (jo is the Chinese pronunciation for the tatami character), and a small room for a college student would likely be a 4.5-jo, which is slightly more living space than I had!
The guys told me its $75 to get into a strip club here with a two drink minimum...and one of those goes to a dancer. It was the first time I've ever encountered a roomful of (cheap) wrestlers who wanted nothing to do with the nudie bar. With the coin system, how would you even tip the stripper? There's no paper money until the 10Y ($10) point. So do you chuck a 500Y piece at the girl's butt? I mean, that's equal to $5 so it's a decent tip, right?
Rain Cautionary: Despite it barely wet, EVERYONE had an umbrella expanded--very dangerous, especially if you're tall--you can lose an eye or a boob or something. All you see for miles is a massive swarm of umbrellas in one hand, a cigarette in the other with a cell phone squished to the ear and a backpack over a shoulder, pushing forward.
We all went out for dinner to this place that had wrestlers' signatures on the wall and Samurai TV (a kick ass 24 hour wrestling channel) on. At one point Sandman (who can be a real sweetheart if he wasn't hung over) totally freaked out a couple of teeny Japanese girls he'd been trying to flirt with (to no avail because I think they might have been intimidated by him) so he said "$#&* this" and grabbed a fistful of flowers from someone's yard and ran after them, where they squealed and practically collapsed in a fit of giggles to see a 6'3" geijin towering over them with a scarred forehead that resembled a roadmap and uprooted foliage. When he turned to see he had an audience laughing their asses off and video taping (yes, this will be in the diary); he sighed and said, "Oh, $#&*. That was Sand-o-man. Sandman doesn't give flowers. 'Sand-o-man' that did that."
Day 10: Off to Ribera Steak House so Slyck can get his jacket. If you're a fighter in Japan, you get a free jacket there--well, I'm sure it's included in the exorbitant steak pricing--and it's become a sort of cultish thing to do. Muhammad Ali, The Rock, Hogan, Bob Sapp, LOD, Dynamite Kid, Don Fry, Ken Shamrock, Mike Tyson and anyone who was anyone that ever stepped into a ring were plastered on their walls.
While there, Zero One Max called and asked him to work Friday's show and to see if he'd be interested in a visa for a regular position.
We headed over to the All Japan show. I'm a fan of Taka Michinoku and all his matches I a saw while visiting absolutely rocked.
Matt Bloom/Albert/Baldo was also on this show and just looked MASSIVE in a Japanese ring. He was also INCREDIBLY popular with fans. We got to see him for a few minutes afterwards to say hello and he'd congratulated Slyck on getting a New Japan callback...which we hadn't yet heard about. I also saw Ebessan, whom I hadn't seen in years and looked good. He mentioned he was on his way to my neck of the woods to visit and train with Kenzo Suzuki.
Day 11: Everywhere I go, I seem to have a toilet issue. Mexico's are sans paper (and disinfectant) and the traditional toilets of Japan take some getting used to, too. They're basically porcelain holes in the ground you crouch over. It takes a lot of practice not to pee on your own foot. Usually, I just try to seek out the Cadillac toilets--that's what I call them--massive, heated toilets with all sorts of crazy buttons that wash, dry and probably shine your butt that are the Western sit-down style. Attention to travelers: for public rest stops, the last stall in any given row is usually the token Western version. Someone told me that, so now I'm passing it on to you. Don't say you didn't learn anything from THIS diary!
We'd been able to figure out the Tokyo train system and we met Sumie and Eddie at the arcade where they have doubles air hockey with multiple pucks at once. It's the shiz-nit and we really need to have this game in the US. After a few rounds of games, we headed to the New Japan show to meet Sabu & Mibu at Korakuen Hall. We were backstage when we ran into Mr. Chono, who smiled when he saw Slyck and told him he'd be coming back May 14th for a show at Tokyo Dome. Wow. Fifty wrestlers from all over tried out, and they'd picked three finalists (including Slyck) to be narrowed down to one or two at the Tokyo Dome 14th show.
The NJ show was awesome. I've always appreciated Liger, but my favorite is Tiger Mask who is just amazing. After the show Sabu took us out for dinner. I think the food is really good here, but very expensive. The average price of a steak at a Sizzler is about $25 and it's roughly the size of a deck of cards. Small. Because the portions are small, it wasn't hard for me to eat carefully, but if you're on a very strict diet, you'd be out of luck here for the most part. I don't think low fat dairy products exist and even skim milk is impossible to find because most Japanese like their milk creamy with 4.7 per cent milk fat, so majority rules. There are virtually no vegetarians there, so visiting vegans aren't happy to find meat or animal products in almost every kind of food prepared in Japan. My friend announced she was a vegetarian and the Japanese in company with us looked curiously and asked "Why?"
A lot of girls at home ask me about working in Japan...first and foremost, you would need a passport. A few years ago I was desperately looking for another girl to go tour with me and virtually no one had one. Secondly, to say it straight, it's not for anyone who doesn't love wrestling or who is afraid to get hurt.
In America, there are girls with breast implants who won't take front falls, or who can't take a bump off the top rope. I can't tell you how many ladies can GIVE a flying head scissors, hurricanrana or crossbody, but can't TAKE one. You Have To Be Able To Take EVERYTHING. That means tiger drivers off the top, catching wrestlers who dive and not hurt them, piledrivers, cop killers; you name it.
You can't say no to anything--and with the language barrier, you might not get the chance to.
There are only a handful of Western girls who can/will take a missile drop kick or German suplex...and these are staple, standard moves in most Japanese matches. That's not to say I think I'm above anyone, because I don't. I'm only stating how it is. I've only been wrestling for three years and have a long, long way to go and constantly screw up and learn from it. But you have to be willing and able to take everything and not go with reservations.
Day 12: SWB was working Zero One MAX that night, so I was free to do what I wanted. I met Sumie at the 01 bus and we headed to the train station to shop and sightsee. You can see straight up girls' skirts if they're coming down the escalator at the station! Something I noticed Slyck noticing, but not commenting on until I did.
Sumie and I shopped until our feet hurt and we couldn't drink any more coffee, then headed out to the Zero One to enjoy the show. That night we were in for a treat, since they had a women's match scheduled: Amazing Kong and the female Otani impersonator had a fun match we enjoyed.
Day 13: We all met early and went sight seeing in Tokyo to Asakusa, the Sensoji Temple and Nakamise Shopping Arcade. My feet hadn't recovered from the day before, but I didn't want to miss a day of seeing some of the history and getting my eerily-on-target fortune at the temple.
You can still buy toy guys that look real in Japan just about everywhere. Oddly enough, gun crimes are also almost nonexistent--in 2000, 8493 Americans were killed by firearms, vs. 22 in Japan, with most of those being violence between yakuza (mafia) gangsters.
I kept having the "Geijin (foreigner) Experience", which was when you saw someone else with round eyes, you guys would do the "wassup!" nod of acknowledgement, despite the fact this person was a total stranger you might never have said hello to back home.
There was a photo booth there where you could have your face placed in between two hot stock models for wallet shots. Only in Japan.
It's a very polite society EXCEPT when they want to get somewhere, like on the train, into a store, etc. They don't say "excuse me" in this type of situation and I was getting shoulder checked by people half my size..and it HURT.
The "conbini" (convenience) stores are pretty amazing here with just about everything in them. Also, there's porn EVERYWHERE. It's so common that no one even bothers to notice it. It's not unusual to see a guy standing at a magazine rack paging through a hard core book right in the open with no embarrassment, whatsoever.
The men are very boob happy here. In 'real life' I stayed pretty covered up, but could still feel them sizing me up.
Slyck and Eric got bored, so they decided to video tape Japanese girls eating frozen bananas and foot-long sausages giggling like a couple of high school wankers.
We stopped for coffee ($3) and Wagoner-san tried to get on an elevator with nine ladies, but he set off the 'over-the-weight-limit' alarm and he had to jump off while they started laughing at him.
Day 14: I've been living on beef bowls here. They're quick and delicious and if I had money, I'd open a chain of these at home. For $5.00 you get meat, rice, soup, and green tea or ice water in about 4 or 5 minutes. $1 more and you can have a salad, too. For our final show, we headed to the Noah show at Budokan and had great seats with Sumo superstar Takamizakari (who is MASSIVE), former Sumo wrestler Taishou and his wife who is former AJW wrestler, Miori. I fell in love with their son, Koji; it was impossible not to. The show probably was more than 15,000 deep, very impressive. Team Scorpio (Too Cold, Mike Modest and Donovan Morgan) were awesome. Ricky Marvin from Mexico, who I hadn't seen before, is super talented. Super Crazy hung out with us for a while, too, then we all went to eat at a steak house for our final night in Japan. Slyck got into a drinking contest with the Sumo's--something I normally would NOT advocate--but ended up beating them, even if it meant wearing half his beer on his trousers.
Day 15: I finally caught up with my friend Mariko Yoshida and we had lunch before I had to set off to the airport that afternoon. On the news we saw the JR train line crashed that morning, which was the one we'd been using all week. Talk about luck.
Looonnngg flight, where we missed the connection, got searched, pulled aside, etc, etc, etc. I never thought I'd get home, but finally DID! Huge thanks to Sumie Sakai for bringing us over, to Sabu for being a leader worth looking up to, 01 Max for having us on their shows and to the various people, fans and reporters who went out of their way to take care of us.
I already miss the heated toilet seats; they rocked!
Thanks for reading!
Kisses!
April
Back to the Headlines!
"A clear conscience sleeps during thunder." -- Jamaican Proverb
Quick Links