Tracy Brooks Talks TNA
"Heading Towards Slamiversary"
June 15, 2005
Well it's that time of the month. No...not that, ladies! It's time for another TNA update!
I am sure everyone has heard what's been going on. Yes, TNA has been off television for a few weeks as our FSN contract was up. But we are still plugging away and moving forward for our three-year anniversary pay-per-view--Slamiversary--and we are doing a television taping the following Tuesday.
The locker room is in high spirits and looking forward to the next chapter in TNA's history. Hopefully, we could soon possibly start the next Monday night wars, which everyone would win! More time, more spots...and more ladies. With the other company going in the direction that they are with their Women's Division, it opens up so many options for TNA. I really do believe in my heart that there could be a great Women's Division in TNA. With all the girls they have let go and all the amazing, beautiful, talented ladies on the indy scene...well, let's all pray and keep our fingers crossed ladies!
TNA UPDATE:
I turned on Sabin and went back with my man, Michael Shane. But not before he super kicked Trinity.



AJ Styles in the new TNA Heavyweight Champion.



Tito Ortiz did a great job reffing the championship match. It was a nice surprise to see someone in his position come into TNA and be as gracious as he was.



TNA did an amazing and thoughtful tribute to the late Chris Candidio.



Thanks for reading, G.L.O.R.Y. Girls and G.L.O.R.Y fans! And remember that Slamiversary is Sunday, June 19th, live from Orlando, Forida's Universal Studio 21.
Please check out www.tnawrestling.com and support your local indies.
Hugs and kisses,
Traci
---
"Tracy In Action At Hard Justice"
April 29, 2005
Note: The following thoughts about Chris Candido were sent in by Tracy after her initial column was submitted. She asked that they be included before her regular column...

--------------------

I had already sent out my column to John when I heard about the horrible incident with Chris Candido. Chris was an amazing man, incredible co-worker and a wonderful human. He was such a great asset to TNA--in the ring and out of the ring--and he will be missed by everyone in the wrestling community. Wrestling is such a hard, cut-throat business...but at times like this we all pull together and realize who our family is. Chris, you were a large part of the wrestling family and you will be missed by everyone.

And to Tammy: you are the reason why many of us girls are where we are today. You are a beautiful woman inside and out, and you are as strong as anyone I know. I send out my love and well wishes to you and your family and if there is anything any of us can do, don't ever hesitate to let us help. We love you Tammy, and you are in my thoughts and prayers. God Bless.
--------------------
It's been awhile since my last diary entry and for that I apologize...
Well G.L.O.R.Y. Girls and G.L.O.R.Y. fans, it looks like you are going to get what you have been asking for: the women of TNA will be in the ring and in action! On Sunday, May 15th at Hard Justice Michael Shane and Trinity will take on Chris Sabin and Traci! That's right. Trinity and I will finally be able to get our hands on each other. And with the guys involved...who knows what will happen!
A lot has been happening at TNA. We just came off of our 6th PPV and Lockdown was insane. I suggest if you didn't see it to catch the replay. There is a lot of talk of TNA going to prime time and all I can say is: keep our fingers crossed! If they do, that means more time and more spots opening for us girls. Despite all the rumors of TNA going out of business, we have PPV's announced all the way to August...with more dates coming soon. The backstage environment is very high and very positive. One thing I love about TNA is there is no egos or hotheads. Everyone in the locker room and the office is there to support one another and to make TNA a stronger more successful company.
Just to update you on story lines...
Michael Shane has decided to take an interest in Trinity, while Chris Sabin and I have been getting pretty friendly. It's nice to manage a guy who isn't an angry boyfriend and always grabbing me! LOL!



Lance Hoyt has become a singles wrestler and turned babyface.



Shocker has been a mainstay to the roster and a welcome addition to the X-division.



AJ and Abyss had an awesome match on Lockdown and Trinity pulled off a beautiful moonsault from the top of the cage...which was followed by my "Brooks and Done Lariat". Sorry Trinity! You can't have all the fun!
We have been taping three shows in one day so it's long and tiring, but we are going back to every other week after the May 15th PPV.
TNA is going stronger than ever and I just want to say thanks to everyone who has supported us...and please continue to support us while we head into our third year!
Don't forget to check out my new site at www.TNATraciBrooks.com.
Hugs and kisses,
Traci Brooks
---
"Looking Towards Destination X"
February 27, 2005
Well, it's that time again when I push TNA down everyone's throat! ; )
I got a lot of positive emails from the G.L.O.R.Y. Girls and the G.L.O.R.Y. fans after my first column. A few negative, too...but that's the way it goes.
TNA had another great PPV, Against All Odds, and we're looking forward to a successful Destination X on Sunday, March 13th. TNA has been getting great ratings with the two replays and now TNA is being shown in a few provinces in Canada. TNA is growing slowly but surely and we are moving in the right direction. They are also using girls in a speaking roll and at ringside on every show.
I just want to encourage all the G.L.O.R.Y. fans and G.L.O.R.Y. Girls to keep supporting TNA by visiting their website, www.tnawrestling.com, buying the PPV's, and watching Impact every Friday at 4:00pm eastern.
Someone also mentioned to me that it would be great to have a girl from OVW write a column. I think that is a great idea! I just want to see all of us succeed in this business built around men. There is a place for us and a market for women's wrestling...we just need to make a little noise to get noticed.
Thanks to everyone who took the time to read my column and reply to it. Again, TNA is a great wrestling company that is competing well and is a great place for employment. I love my time at TNA and I know it will continue to grow and be a wrestling mainstay.
Thanks so much!
Hugs and kisses,
Tracy Brooks
---
"Making The Case For TNA"
January 28, 2005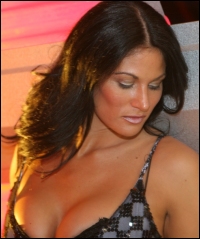 Happy belated holidays to all the G.L.O.R.Y. Girls and G.L.O.R.Y. fans. I just wanted to take this chance to say thanks to John for giving us this website and putting up with all of us G.L.O.R.Y. Girls...I wouldn't put up with us! LOL!!!!
I also want to take this opportunity to get some things off of my chest. I have been with TNA for almost two years now and I can't tell people how happy I am with TNA and my involvement in the company. TNA gets better every show and the PPVs have blown our competition out of the water.
People might ask who TNA is in competition with. Well, we are one of two wrestling companies out there that have national exposure. TNA has been around for 2 1/2 years and we have been moving forward instead of standing still. Some people crap on TNA, saying it's crappy booking, crappy talent, crappy time slot...but we are still here and we keep moving ahead!
I also get a lot of negative things said to me about TNA. I hear I am a sell-out because TNA doesn't use woman wrestlers...I am not respected because I am strictly TNA...I am no longer looked at as a female professional wrestler but just a valet. I could go on and on. I am not going to waste anyone's time trying to defend myself, but I just want to ask all the G.L.O.R.Y. family to please support TNA. Tune-in on Fridays at 4:00pm...catch the replays...buy the PPVs...click on the website (www.TNAWrestling.com)...support the TNA superstars at the local indy shows!
G.L.O.R.Y. Girls, if we support TNA and want it to succeed, there is more opportunity for us to get jobs. I know a lot of you girls are probably saying: "Why do I want to work for TNA and just be eye candy? I want to be a wrestler!" Well, managing Michael Shane and Frankie Kazarian gives me the best seat in the house. I get to watch them work with some of the best talent in the world and usually get to be part of their match. I get to be right there--inches away--watching these guys in action. To me, there's no better way to learn.>
Everyone is bitching about WWE and how they messed up their women's division. Well, screw them and support TNA instead! The more TNA grows, the better chance of them getting a Women's Division...or using more girls...or giving us a chance to have dark matches.
ODB and I had the chance to have the very first women's match at Impact and it was embraced by the crowd. People want to see women's wrestling or women in wrestling in some form. It's hard for TNA right now because of their one hour time slot. But the more people watch and support us, the better ratings we will get...the better time slots we will get...the more jobs that will open for us. I really think WWE dropped the ball on the women's division and hopefully, in the future, TNA will pick it up and run with it!
When I first starting training, there were three major federations. It then quickly went down to one. But now TNA is competition and offering an alternative for the wrestling fan. Love TNA or hate TNA...I really don't care...but just support it!
You might think that what I just wrote is a waste of time. And if I did waste your time, I apologize. But I just wanted to get this off my chest. This business is hard, catty, mean, stressful, tiring, lonely and sometimes depressing. But it's our dream...and if you truly believe in yourself and in this business, you will succeed!
Hugs and Kisses,
Tracy
www.TracyBrooks.net
"Shoot for the moon. Even if you miss, you'll land among the stars." -- Les Brown
Quick Links